CSUN Library Presents 'Right of Way: Justice and Equity in the Growth of Los Angeles'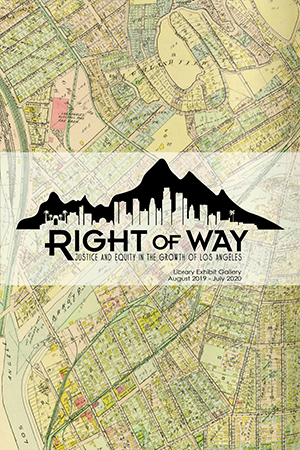 California State University, Northridge's Delmar T. Oviatt Library Special Collections and Archives will host a reception for its new exhibit, "Right of Way: Justice and Equity in the Growth of Los Angeles" on Wednesday, Oct. 16. The event will feature a keynote addressed by environmental activist and CSUN professor Loraine Lundquist.
The exhibit highlights how the environmental justice movement connects environmental quality objectives to strategies for social justice. It centers environmental harms experienced by human beings rather than viewing them as inflictors of environmental damage. The exhibit invites attendees to help define, comprehend and amend contemporary environmental inequalities.
"Sustainability continues to be a crucial issue and a major challenge for our region, our country, and indeed the entire world," said Mark Stover, dean of the Oviatt Library. "This exhibit is a good reminder that our stewardship of the earth, or lack thereof, will affect those of us alive today but also future generations."
Displays document climate change, housing, city planning, hazardous waste, noise and air quality, water, parks, open space, conservation and urban infrastructure. Archival material drawn from the Special Collection and Archives include the Susan B. Nelson Collection, which documents Nelson's role as a social activist and an environmental and community planner.
Nelson devoted her life to environmental and social causes until her passing in 2003. She worked on preserving open space and parklands in Southern California. After her work to establish and shape the Santa Monica Mountains Recreation Area she became known as the "mother of the Santa Monica Mountains."
Lundquist is a founding member of the West Valley Neighborhood Alliance on Homelessness. She has served as a science and technology policy fellow at the National Academy of Science and a research scientist at Harvard-Smithsonian.
The reception is scheduled to be held from 5 to 7 p.m. It is scheduled to begin in the library's Ferman Presentation Room and end with an exhibit tour in the second-floor gallery. Complimentary refreshments will be provided.
American Sign Language interpreters and note takers are available. However, attendees must call (818) 677-2638 in advance. Parking is $8 per vehicle at campus information booths.
To RSVP, visit the Oviatt Library's event page.