CSUN Signs Declaration to Encourage Free Access to Research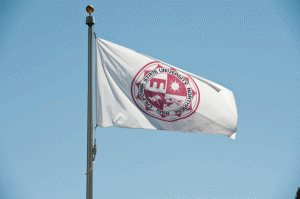 With the stroke of her pen, President Dianne F. Harrison made California State University, Northridge the first CSU campus to officially encourage the free and open dissemination of research and scholarship.
Harrison signed the Berlin Declaration on Open Access last month. The Berlin Declaration calls for open access to knowledge in the humanities and sciences, recognizing that the Internet has changed the way knowledge and information is disseminated.
"One of the fundamental cornerstones of higher education and our work at CSUN as a regional university is to ensure that the fruits of our scholarship and research benefit our community and society at large," Harrison said. "The declaration is already closely aligned with our commitment and efforts to broadly share knowledge and information, so I was pleased to sign the declaration."
By becoming a signatory of the declaration, CSUN aligns itself with a growing number of North American institutions of higher education committed to a vision of globally interactive and accessible scholarly communication. Among the other American universities and colleges whose presidents and provosts have signed the declaration are Harvard University, Dartmouth College, UCLA, University of Maryland, University of Florida, Pursue University and Oregon State University.
"The open-access movement has made great strides in institutions of higher education," said Mark Stover, dean of CSUN's Oviatt Library. "Many academic senates in the U.S. and abroad have passed open-access resolutions encouraging their faculty to publish in open-access journals or repositories. Several federal granting agencies actually require that any research funding needs to culminate in an article available in an open-access journal or repository."
At CSUN, Stover said, faculty, students and staff are encouraged to share their scholarly work through ScholarWorks, the university's open-access institutional repository for capturing, organizing, preserving and disseminating intellectual output.
"Basically, in the past, any work our faculty did was 'locked down' behind firewalls," Stover said. "Faculty do research and give it away to journals, and the journals charge an arm and a leg for libraries to subscribe to them. This idea of open access is that the research faculty do will always be available to anyone in the world, whether in the first world or the third world, to access and benefit by it. There are tremendous social benefits in giving everybody open access to scholarly literature."