CSUN Tops List of Enrolled International M.A. Students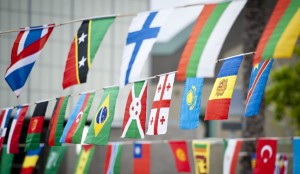 California State University, Northridge has had a long-standing tradition of opening its doors to international students. Known for its diverse student body, CSUN is always looking to strengthen this tradition by working internationally. Recent examples include signing memorandums of understandings with Central China Normal University and India's Kumaraguru College of Technology to exchange students, faculty and knowledge.
Recently, the Chronicle of Higher Learning released its Almanac of Higher Learning 2013, which showed those actions are working. The report highlighted the colleges and universities with the highest number of international students, and CSUN ranked first in the master's programs division with 2,803 students. CSUN's results were aligned with the Almanac's noted trend of more international students heading to schools in California and New York.
For more: U.S. Institutions With the Most International Students, 2011-12 (Chronicle of Higher Learning)