CSUN Will Host Renowned Writer Tim Wise to Speak on Colorblindness and White Privilege
Nationally renowned public speaker and author of the book "White Like Me: Reflections on Race from a Privileged Son," Tim Wise, will explore issues of colorblindness and institutional racism in a lecture, "Colorblind: The Rise of Post-Racial Politics and the Retreat from Racial Equity," at 11 a.m. on Wednesday, Dec. 2, at California State University, Northridge.
The lecture — free and open to the public — is organized by CSUN's undergraduate research program, BUILD PODER (Building Infrastructure Leading to Diversity Promoting Opportunities for Diversity in Education and Research), funded by the National Institutes of Health. The research program uses critical race theory as a pedagogical tool to support institutional change around issues of equity and social justice in health and education.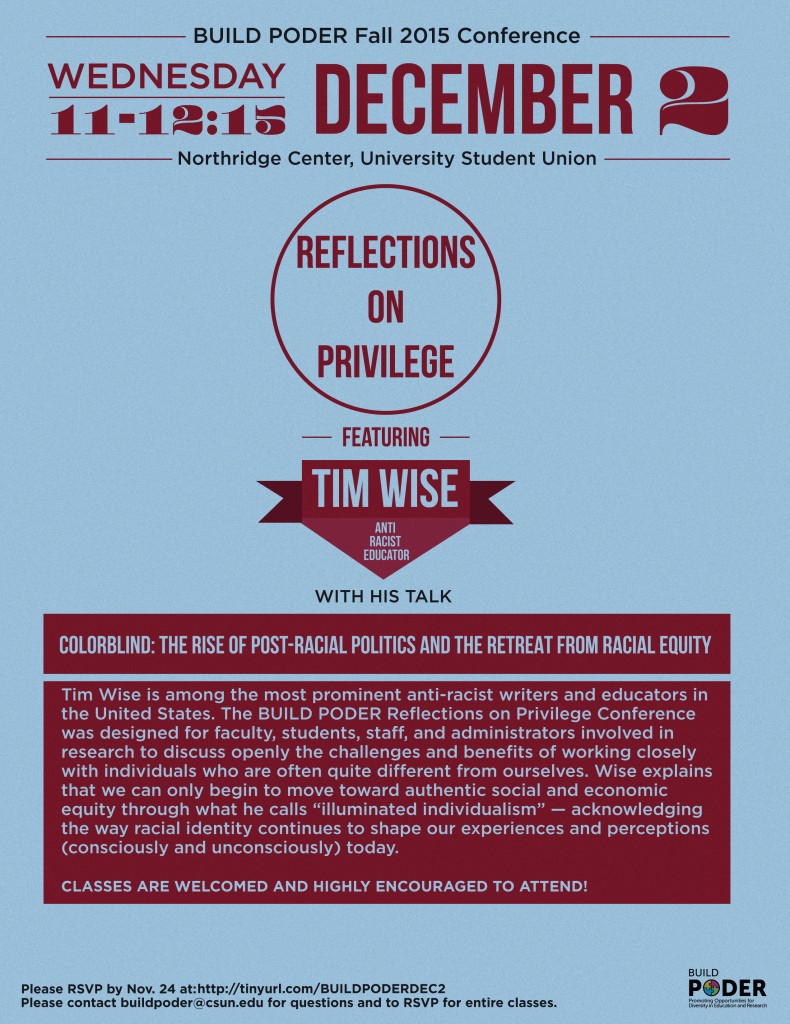 Psychology professor Carrie Saetermoe said the program has trained faculty who work with BUILD PODER undergraduates on issues such as stereotype threat and microaggressions. They invited Wise to help expand the conversation to issues of privilege and colorblindness as a problem in scientific research.
"In the social sciences, we always talk about race and ethnicity, but it isn't always perfectly obvious in other disciplines, such as in engineering or in chemistry, why race matters," Saetermoe said. "I'm hoping we can convince people that it does, [and change] the types of questions one asks or methods one uses."
Saetermoe said ignoring the issue of colorblindness harms society's ability to move forward in ending health inequities, and she added that the inequities are getting worse.
BUILD PODER is one of 10 BUILD programs in universities across the nation funded by a National Institutes of Health grant to diversify the biomedical workforce. BUILD PODER students receive a stipend, tuition, funding for research supplies and funding to travel to a conference with their mentor. The program trains faculty who participate in the program as mentors to students, on how to implement critical race theory in their courses and labs.
"For example, a professor researching breast cancer can talk to students about the history of breast cancer in this country and why it took so long for us to get to the point where we can develop treatments," Saetermoe said.
The program also teaches students how their work as scientists can promote advocacy and social justice. BUILD PODER students participate in a month-long summer training called JumpStart with professor Gabriela Chavira, principal investigator, where they explore those issues in preparation for their academic work.
"We want students to understand the social justice aspect of the research and understand it's their responsibility, having the privilege that they have, to go out into the world with a lens of social justice — so that they can work hard to help resolve health disparities," Saetermoe said. "It could be about health from the biological perspective to the psychological perspective."
She said she hopes Wise's lecture will help all participants of the program deepen their understanding of race and of each other.
The lecture will be held in the Northridge Center at the University Student Union, on the east side of the campus at 18111 Nordhoff St. in Northridge. To register for the event, visit http://tinyurl.com/BUILDPODERDEC2. Attendance is expected to be high.
For more information on BUILD PODER, visit http://www.csun.edu/build-poder or contact buildpoder@csun.edu.