CSUN's Family Earth Days Showcases Elementary, Middle and High School Student Environmental Research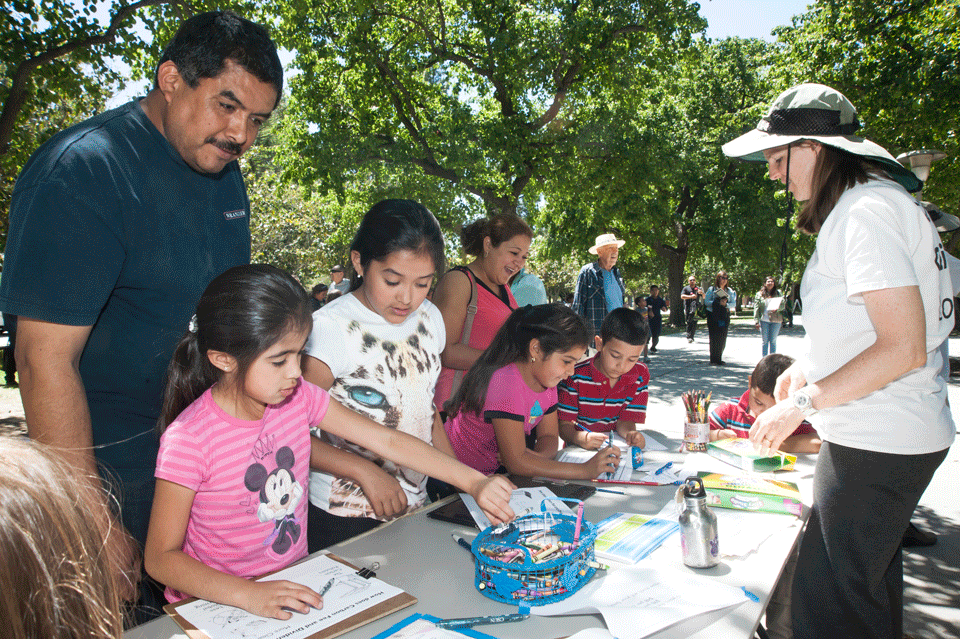 Families and K-12 students celebrate Family Earth Day at CSUN. Photo by Luis Garcia.
Embracing a new sustainability curriculum, San Fernando Valley elementary, middle and high school students collectively measured different amounts of energy used around their schools, installed low-flow devices to help save water and helped establish community gardens at their schools to help with waste and food issues.
Around 1,400 students who participated in the curriculum will present their environmental conservation projects at California State University, Northridge's Family Earth Day Celebration. The event takes place in the Matadome and on the East Field on Saturday, April 29, from 10 a.m. to 2 p.m. The Matadome and East Field are located on the east side of campus near the intersection of Plummer Street and Zelzah Avenue.
For the past two years, CSUN's Institute for Sustainability has collaborated with the Los Angeles Department of Water and Power (LADWP) on sustainability curriculum for students in grades K-12. This year, the LADWP is working with 36 teachers from 19 different schools throughout the San Fernando Valley. Each classroom has participated in educational field trips to power and water treatment plants, NASA's Jet Propulsion Laboratory, the Los Angeles Cleantech Incubator and Discovery Cube.
"Family Earth Day at CSUN is an event where students will display projects they have been implementing into their schools and showcase their knowledge about sustainability issues to parents, other students, council members, school board members, principals and the community," said Institute for Sustainability project coordinator Kiana Lucero.
Lucero said groups of students worked on different environmental projects.  Some students studied "kill-a-watt" meters to test different electrical appliances that determine which devices use the most energy. Students also conducted energy audits and recorded how much energy is used around their schools to try to find ways to reduce energy consumption.
Other student groups focused on water usage by conducting water audits with flow bags that show the amount of water that flows from their sinks and showers. Students installed low-flow devices in their homes and at school to help save water.
Some students focused on waste and food issues and created community gardens to practice growing herbs and vegetables in water.
"It's important for kids to show what they've learned and also learn from others around them. They will be able to walk around to see the other projects and see what other teachers and classrooms have been working on," said Lucero.
The students will receive a "Green Ambassador" participation certificate for their work. Each teacher will select three students per classroom who showed the most enthusiasm, were innovative or who saved the most energy and water to receive a $20 gift card.
The event also will include about 20 outside organizations, such as Grid Alternatives, Green Planet Aquaponics, 5 Gyres, the Center for Biological Diversity and Pick my Solar. These organizations will provide environmental information and promote green lifestyles.
There will be performances from Theatre of Will and interactive presentations from The Wildwoods Foundation. Theatre of Will will perform water-themed songs and dances that discuss the history of water in Los Angeles and promote water conservation. The Wild Woods Foundation will give an interactive presentation that creates a replica of the Los Angeles Aqueduct. CSUN planetarium and sustainability campus tours will also be available.
The first 100 families who register for the event will receive free parking. To RSVP for the event please click here.
For more information, please email, sustainability@csun.edu or call (818) 677-7710.