Families Invited to Explore Paths to Success at 'Feria de Educación'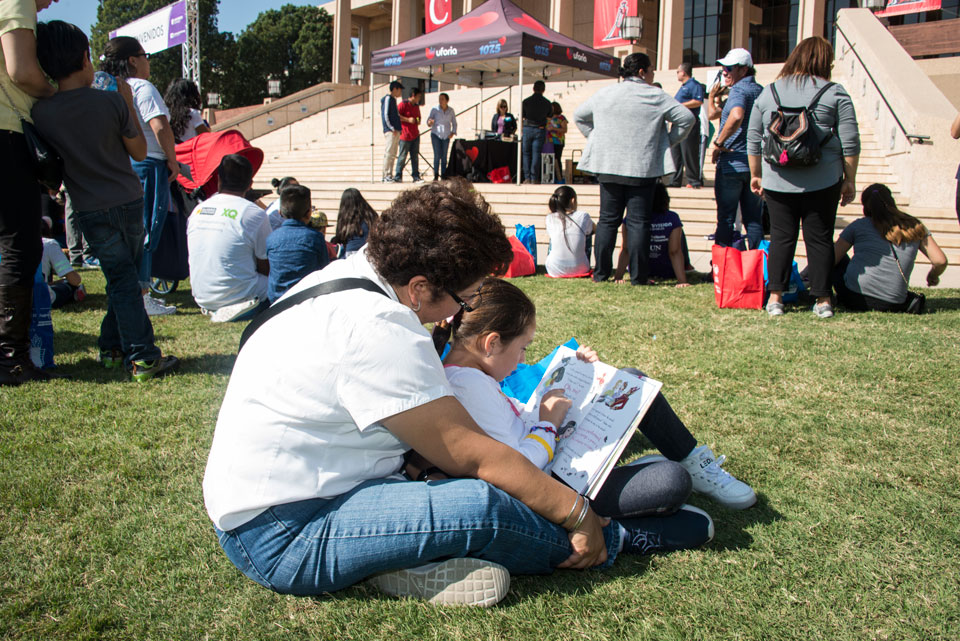 A mother and her daughter sit on the lawn in front of the Oviatt Library to read a book at last year's Feria de Education. Photo by David J. Hawkins.
Univision Los Angeles, the California State University Chancellor's Office and California State University, Northridge are teaming up Saturday, Sept. 23, to help thousands of young Latinos and their families discover paths to success at Feria de Educación, a daylong celebration focused on proving educational resources and information on building blocks for achieving academic and professional success.
The annual free event, part of Univision "Regresa a Classes" (Back-to-School) campaign. Through its award-winning corporate social responsibility platform, Univision Contigo, the campaign is focused on promoting Science, Technology, Engineering, Arts and Mathematics (STEAM) building blocks, education, opportunities and careers for Latinos.
The Feria has become one of the largest education fairs in the nation and is free for parents, students and educators. The event is scheduled to take place from 9:30 a.m. to 3 p.m. in areas and buildings around CSUN's Delmar T. Oviatt Library, located in the heart of the campus at 18111 Nordhoff St. in Northridge. This is the second year CSUN has hosted the event.
"CSUN is proud to educate and uplift students from throughout Southern California, and we are happy to once again host this major educational event in partnership with Univision Los Angeles and the CSU," said CSUN President Dianne F. Harrison, who will welcome the Feria's attendees at 9:30 a.m. in front of the Oviatt Library. "For many, the Feria is the start for successful educational journeys, and I encourage families and students of all ages to join us and learn more about the resources, career paths and futures made possible by the life-changing impact of education."
Since 2009, Univision Los Angeles has partnered with the CSU to host Feria de Educación on one of its campuses. This one-day education fair is filled with Spanish- and English-language workshops and other activities designed to give parents the tools to help their children achieve their educational and career goals, providing resources and valuable information on the full spectrum of education.
"Education is a powerful tool that not only opens the door to opportunity, but also empowers our youth to strive and reach for more across all areas of their lives," said Luis Patiño, president and general manager of Univision Los Angeles. "We are extremely proud of the partnership with our Cal State universities and our joint mission of empowering and providing access to education for our Latino community."
Workshops will cover such topics as how to create a learning environment at home; an exploration of California's three public higher education systems and its private colleges; overviews of the college application process; services for undocumented students; the financial aid process; immigration; support for students with learning disabilities; the LGBTQ community and the support offered by the Educational Opportunity Programs to students, as well as conversations with currently enrolled students about life on campus.
The Feria will include a "reading garden," and a variety of age-appropriate books and learning materials will be distributed to encourage children and their parents to read together. There will be exhibits explaining the "pathway" to higher education with additional resources and information, beginning with pre-K and continuing through post-graduate services. There also will be opportunities for participants to learn about health and wellness.
Univision personalities Claudia Botero and Eder "Gorritas" Diaz will serve as opening ceremony emcees. Joining the event's activities, including the reading garden and Univision booth are: Leon Krauze, Norma Roque, Stephanie Bradford, Julio Cesar Ortiz and Guillermo Quiroz from the Univision family.
The Feria de Educación supports the CSU's Graduation Initiative 2025 that is focused on increasing the completion rates of first-time freshmen, transfer, low-income and underserved students. The Graduation Initiative 2025 will add 100,000 more college graduates to California's workforce over the next 10 years, bringing the total number of expected CSU graduates between 2015 and 2025 to more than 1 million.
"The future of California and the nation will depend on our ability to ensure that all students — regardless of background, belief, circumstance or status — have equitable opportunities for academic achievement and lifelong success," CSU Chancellor Timothy P. White said. "As an immigrant from Latin America and product of California's public higher education systems, I am proud that the California State University stands committed to building pathways to higher education for all qualified students."
Originally launched in February 2010, Univision Contigo's education platform remains the nation's longest-running multimedia education campaign on the air. Today, with the help of leading organizations such as the Bill & Melinda Gates Foundation, Too Small to Fail, the Bezos Family Foundation, XQ Institute and Common Sense Media, among others, the initiative continues to empower Latino families to invest in their children's education in order to ensure their success in college and beyond.
For more information about the Feria de Educación at CSUN, visit www.csun.edu/feria. To learn more about Feria events across California, visit www.calstate.edu/feriadeeducacion.