To Infinity and Beyond: Alumna Christine Hirst Soars as an Astronomy Teacher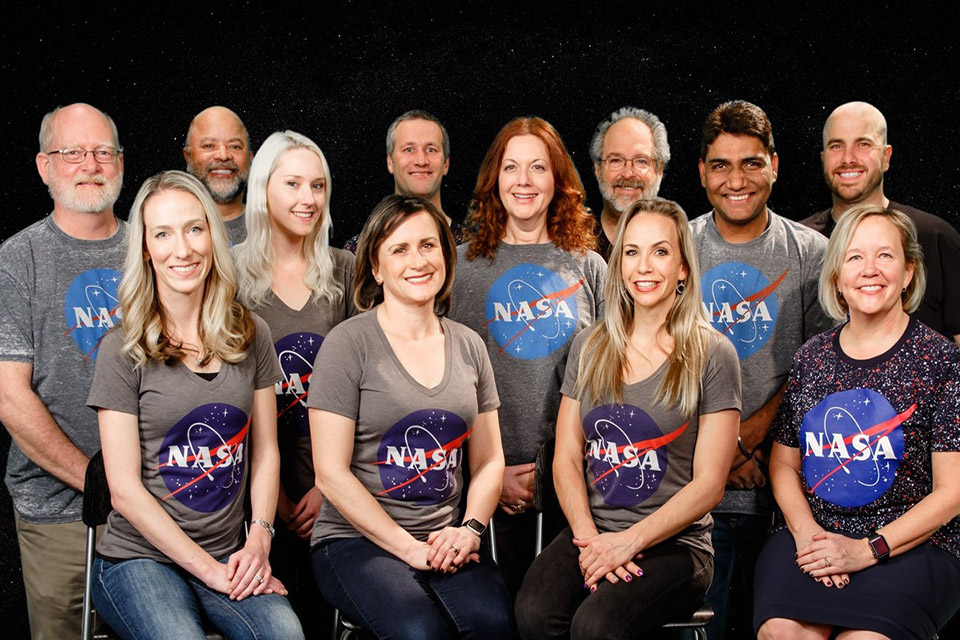 Hirst — first row, second from the right — sits among fellow candidates chosen to fly on the SOFIA Mission. Photo courtesy of Christine Hirst.
Over the past three years, Christine Hirst '12 (Science Education) has soared through the sky aboard NASA's SOFIA Infrared Observatory as a NASA Airborne Ambassador, has gotten involved with community outreach as a JPL/NASA Solar System Ambassador and was one of five people selected as a Chile Astronomy Ambassador this past May. For Hirst, the sky isn't the limit but the new frontier.
Hirst has taught students at West Ranch High School and College of The Canyons in the Santa Clarita Valley about interstellar space for more than 16 years. Her passion for space began at age 5 when the Space Shuttle Challenger exploded after liftoff in January 1986.
"Instead of that scaring me, I just knew that that's what I wanted to be a part of," Hirst said.
After earning her bachelor's degree in environmental studies from Humboldt State University, she began teaching earth science at West Ranch High.
"I took a geology class and it — all pun intended — totally rocked my world," Hirst said.
However, she felt that the key to educating her students was to educate herself further. She chose to come to CSUN to study science education as a graduate student.
"The connections to local resources here, the things that we can immediately put into practice as a science teacher in Southern California [are what I received from CSUN]," Hirst said.
Hirst's West Ranch students have been among the first student groups to submit a proposal for the SOFIA mission, which Hirst was selected to fly on the mission as part of the 2017 NASA Airborne Astronomy Ambassadors Program (AAA).
The NASA AAA project seeks to significantly improve student STEM experience and success in chosen school districts through teacher professional development. Candidates must have more than three years of teaching experience and be assigned to a minimum of two space/science classes. NASA AAA team selects the participants after a rigorous application process.
"Christine is so passionate about the subject of astronomy, and that translates to the students," West Ranch High School Principal Mark Crawford said. "The passion can be influential, and make a positive impact on the lives of the students and inspire them to achieve the best for their lives."
NASA and German space agency DLR converted a Boeing 747 plane into a flying observatory. The mission observes the largest range of infrared wavelengths of any telescope on earth or in orbit — including Hubble — which Hirst calls a crucial piece of the cosmic puzzle.
"By observing other wavelengths, we can seek answers to the deep questions of 'Where did we come from?', 'Where are we going?' and 'Are we alone?'" Hirst said.
Summer was jam-packed for the high-flying Hirst, who traveled to Hong Kong then Chile to help map out and educate youngsters about the cosmos.
She spent three weeks this past June in Hong Kong creating their first Space Camp. She was asked by an affiliate of the Ministry of Health to help create a STEM/space-specific academic presence in the country. The theme: "Race You to Mars!"
"Science and STEM are not emphasized [in China], but are gaining steam," Hirst said. "My goal was to teach young learners — all of them English-language learners — the strategies of inquiry, questioning, problem-solving and collaboration, with space education as the medium."
She is still in awe after recently returning home from Chile, in her first official role as a Chile Education Ambassador for the National Science Foundation. Forty percent of all light collected for astronomy is collected in Chile, with that number rising to 70 percent as more research is conducted in the area, according to California Academy of Sciences. Besides light, over 50% of all astronomical data is collected in Chile, Hirst said.
"The Chilean observatories — both due to their hemispheric location and the geographic location — are really crucially important to the study of all things space," Hirst said.
The program took her to three key observatories where the ambassador group slept at the facilities, ate meals with the staff and visited scientists. One of the major stops on the tour was the Atacama Large Millimeter Array (ALMA) site, which sits on the Chajnantor plateau at over 16,000 feet in the Chilean Atacama Desert. ALMA is responsible for capturing the now-famous image of the black hole— the first image of a black hole to ever be captured. Without data from ALMA, the ring around the now-famous image would not be visible, and our first image of a black hole would be a fuzzy and indecipherable blob. ALMA was the key to resolving that data.
One of Hirst's major takeaways was the multitude of skills needed at each site – from cooks to gatekeepers and scientists — and the uniting factor that brought everyone together: their love of space, exploration and belief that the work they are doing will change the world.
"The connections [Hirst] has formed with those in the industry have been crucial to our growth of STEM, specifically with our female students," Crawford said. "Some of our students do look to Mrs. Hirst as a person that has stayed connected to the field that she loves, while inspiring students through education to go on and 'reach for the stars.'"