Voice of the Community: CSUN's Language, Speech and Hearing Center Has Served the Community's Needs for Half a Century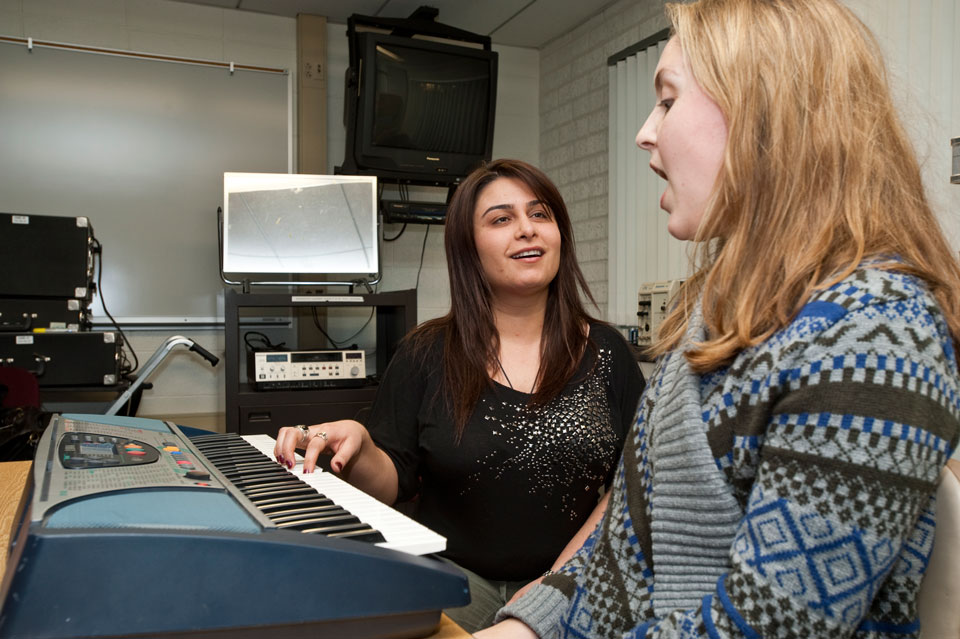 The voice clinic at CSUN's Language, Speech and Hearing Center helps professional singers and other performers coping with injuries and challenges. Photo by Lee Choo.
On one end of Monterey Hall, preschoolers play a word game and sing together as they march around colorful carpet squares. On the other end of the building, silver-haired stroke survivors socialize quietly around a table, sipping coffee and playing a trivia game as they name Albert Einstein, Amelia Earhart and other famous figures in history. It's all part of a typical morning at the busy Language, Speech and Hearing Center at California State University, Northridge.
The center, which celebrated its 50th anniversary in 2013, serves 500 to 600 clients from throughout the community each semester. Its clinics operate year-round and exist primarily — just as they did in the 1960s — to provide graduate students in speech language pathology with their first practicum and clinical experience. The CSUN students are working toward their master of science degree and credential in the Department of Communication Disorders and Sciences.
"The patients are contributing to the students' education, and the students are contributing to patients' quality of life," said Janice Woolsey '89, M.S. '91 (Communication Disorders and Sciences), clinic coordinator and instructor for the center. "It goes both ways."
The preschool-age children participate in the center's Early Intervention Program, a government-funded service for kids up to age 3. The tots take part in a circuit of activities on the playground and in colorful classrooms, equipped with microphones, video cameras and observation mirrors. Graduate students must complete 25 hours of observation before they may interact directly with clients.
The center's general clinic serves patients from age 3 into adulthood.
"We see whoever walks in the door," Woolsey said. "It gives our students the opportunity to experience what a private practice would be like."
The center does very little advertising, relying on word of mouth and referrals from schools, hospitals, pediatricians and former patients, she said.
The general clinic provides audiology services to the community, such as hearing aids, audiology testing and cochlear implant programming. The center also offers specialties such as a stuttering clinic for children and adults, and a voice clinic for professional singers and other performers coping with injuries and challenges.
Stroke survivors and patients recovering from traumatic brain injuries come to the center for its neuro clinic, which offers one-on-one and group speech therapy. Over the years, the group has included retired attorneys, a museum docent — even a retired airline pilot. The groups stay together for years, working weekly on word retrieval and long-term memory in the clinic, but also developing fast friendships and supporting one another outside the clinic, said group supervisor Sarah Cathcart M.S. '06  (Communication Disorders and Sciences).
In recent years, the center's staff and students have added tools such as iPads to incorporate assistive technology into their education — preparing students for 21st century careers in speech language pathology. Seventy-five percent of graduates go on to work in schools, while a quarter will work in medical settings and private practices.
The center is part of the larger Center for Community Health and Wellbeing at CSUN, a clearinghouse that serves as a one-stop shop for community members seeking resources and expertise at the university.
"My hope is that people view CSUN in a very positive light because of their experience here," Woolsey said. "I want people to automatically think, speech [equals] CSUN."