CSU Employee Update: 2/5/14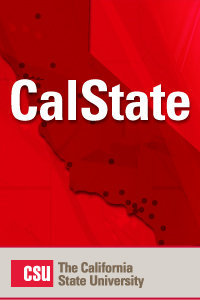 State of the CSU Renews Focus on Student Achievement
Calling the state of the California State University "strong, proud and aspirational" Chancellor Timothy P. White pledged a renewed focus on student achievement and degree completion in his inaugural State of the CSU address delivered before the Board of Trustees this week.
White outlined seven areas critical to student success that will be supported by an investment of $50 million:
• Hire more highly-qualified tenure-track faculty to reverse the declining ratio of tenured and tenure-track faculty to lecturers;
• Enhance student advising by hiring more advisors on campuses and expanding e-advising technologies;
• Expand funding for the bottleneck solutions initiative to support more online concurrent enrollment courses;
• Help incoming freshmen attain college readiness and support underserved students by expanding the Early Start program;
• Ramp up high-impact practices, including service learning, undergraduate participation in applied research, internships, study abroad and first-year student learning communities;
• Expand data collection and data-driven decision making to improve program quality and implement programs that advance student success;
• Improve access for and degree completion of SB 1440 transfer students within two years through a variety of campus and system-level strategies, including admission preference.
White praised the remarkable work being done on the 23 campuses, and acknowledged the challenges and the cost inherent in the ambitious plan, saying, "It is an investment," and "the cost to California will be greater if we don't do it." He promised to partner with policymakers, educators, business and community organizations, trustees, faculty, staff, students, alumni and the public to reimagine and revitalize the CSU "in support of the students of today and tomorrow." Watch the video.
CSU Reaches Record High in Donations
Donor support reached historic highs for the CSU system and campuses, with a record $282.9 million in charitable gift receipts in 2012-13 and an unprecedented $1.2 billion endowment market value, according to the annual philanthropic report given at this week's Board of Trustees' meeting. The CSU also received $338 million in gift commitments in 2012-13, an increase of 14 percent from the previous year. Individual donations to the CSU from alumni, parents, faculty, staff, students and friends increased 27 percent from the previous year, to $135.8 million.
Donor support helps the CSU further its commitment to access, affordability, quality and completion for all students, including Felicia Anderson, a candidate in the Doctor of Education program at Cal State Long Beach, who shared with the trustees how a grant from the James Irvine Foundation supported her doctoral research in Linked Learning. Read the report.
First Woman President to Lead CSU Long Beach; Ortiz to Retire from Pomona
Jane Close Conoley will become the first woman president of CSU Long Beach, replacing Donald J. Para, who has been serving as interim president since June 2013. Conoley is dean of the Gervirtz Graduate School of Education at the University of California Santa Barbara. She will be the campus' seventh permanent president in its 65-year history and is expected to begin her new position in July. Read more.
Cal Poly Pomona President Michael Ortiz announced this week his decision to retire in December 2014. A lifelong educator and higher education administrator, Ortiz was appointed to his position in 2003 and served as Cal Poly Pomona's fifth president. Ortiz said, "While I cherish the time I've had as president and have enjoyed being immersed in our vibrant campus community, it's time for me to spend more time with my family and grandchildren." Read more.
Trustees Hear Updates on Student Success Programs
Student success, access and completion were the focus of this week's Board of Trustees meeting. Trustees heard updates on CSU initiatives, including the Graduation Initiative, reducing bottlenecks and admission promise programs, as well as Gov. Brown's proposed 2014-15 budget plan. An increase of $142.2 million to the system's budget will allow the CSU to improve existing programs and services to students, and maintain tuition at the current rate for the fourth consecutive year.
The Board of Trustees also heard presentations on legislative advocacy for 2014. The state agenda addresses two major initiatives—modifications to reporting schedules for three mandatory reports the CSU provides the legislature and modification of the rules to allow a current faculty trustee to serve until the governor appoints a successor. The federal agenda continues to focus on priority programs that support the CSU's key initiatives, including student preparation, degree completion, workforce preparation, applied research and increased support for public higher education. Read more.