The 2014 Senior Class Gift Gets Its '100 Days' Kickoff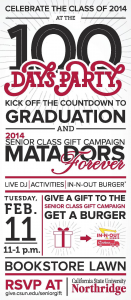 If you listened closely at the start of this semester, you might have heard a faint buzz of excitement on the California State University, Northridge campus as members of the senior class started their countdown to graduation in May.
With that in mind, CSUN officials are launching the 2014 Senior Class Gift Campaign, which provides this year's graduating students an opportunity to establish a legacy at the university long after they've stowed away their caps and gowns.
"An important part of the Senior Class Gift campaign is to help graduating students think about their role as Matadors, as something that extends far beyond their student years," said Shawna Foster, development associate. "The campus and its student experience has been made better by the generosity of those who came before them, and this is our students' first chance to leave their legacy at CSUN."
The university will kick off the Senior Class Gift — in which graduating seniors may contribute donations of any size (including $20.14, in honor of their graduation year) — with a 100 Days Celebration on Tuesday, Feb. 11, from 11 a.m. to 1 p.m. on the lawn in front of the bookstore. An In-N-Out truck will be on hand, and students who contribute to the class gift will receive a burger voucher to be redeemed at the event. The celebration also will include music and activities to engage participating students who want to give back to the school as their graduation draws near.
"I am always impressed by how a sense of gratitude grows in students as they approach graduation, just as a sense of pride grows among faculty and staff as we watch a new class of Matadors march into the arena of life," said Robert D. Gunsalus, CSUN's vice president for advancement. "The fact that scores of seniors will make a contribution to the senior class gift as a demonstration of that gratitude is a wonderful boost to that pride, and a great example of how CSUN shines."
The university has chosen 17 graduating seniors, representing a diverse set of organizations across campus, to help coordinate the efforts. They have set up social media campaigns, conducted outreach and helped determine the goal of this year's gift.
"Through my time here at CSUN, I have tried to figure out a way not just to leave something behind, but how to make a difference that can continue after I am gone," said graduating senior Amir Ahmadian. "The 2014 Senior Class Gift is the philanthropically based project and direction I was looking for. We can leave something of meaning behind for our fellow Matadors who are still on their journey to graduation."
For more information about the Senior Class Gift, visit http://give.csun.edu/seniorgift.