CSU Employee Update: 9/27/13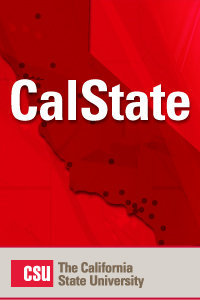 CSU Supports Affordable Care Options with Outreach to Students, Families
The CSU has partnered with the federal Health and Human Services Office to inform students and families systemwide about the health care options that will be available Oct. 1 under the Affordable Care Act.
The CSU's 23 campuses will launch an outreach and information campaign about health insurance choices and assist students and families with enrollment as part of a grant from Covered California, the state's health insurance marketplace. Middle and lower income students and families may qualify for financial assistance to cover health insurance costs. Chancellor Timothy P. White and U.S. Department of Health and Human Services Regional Director Herb Schultz speak to the importance of the new initiative in a video.
CSU Reaches Agreement with CSUEU and IUOE
The California State University has reached agreement with the California State University Employees Union (CSUEU) and the International Union of Operating Engineers (IUOE) over 2013-14 salary re-opener negotiations. CSUEU represented employees will receive a salary increase that is the greater of 1.34 percent of annual base salary or $40 per month. IUOE represented employees will receive a 1.34 percent increase. Salary increases will be retroactive to July 1, 2013. CSUEU represents more than 15,000 CSU employees including administrative and technical support and healthcare and service workers. The IUOE represents skilled trade workers at the California Maritime Academy. Read the memorandums of understanding between the CSU and CSUEU and between CSU and the IUOE.
Students Beat the Odds to Excel
Twenty-three exceptional students who have overcome severe adversity—including illness, abuse, poverty and homelessness—were honored with the 2013 CSU Trustees' Award for Outstanding Achievement at the Board of Trustees meeting this week.
The awards are given each year to one student from each campus who demonstrates superior academic performance, personal accomplishment, community service and financial need. The CSU Trustees' Awards are among the highest student distinctions and are accompanied by scholarships of $3,000 to $10,000.
"CSU Trustees' Scholars have defied the odds to become leaders among their classmates and exemplifying the CSU mission of access to a quality higher education," commented Chancellor Timothy P. White. Tim Dean Sain of CSU Chico and Clayton Matthew Treska of San Diego State each received the top Trustee Emeritus Ali C. Razi scholarships. Meet all the scholars and learn more about the CSU Trustees' Awards.
New Initiatives Promote Student Success
Information about a wide-ranging set of initiatives to improve student success while reducing time to degree through the use of technology was shared with California State University Trustees at this week's board meeting. These initiatives will potentially benefit thousands of students in the 2013-14 academic year and beyond. Four key programs were highlighted:
Systemwide concurrent enrollment provides full-time students enrolled at any campus with access to fully online courses offered at other CSU campuses.
Faculty-led Course Redesign Workshops (eAcademies), focused on incorporating technology.
Virtual STEM labs will be incorporated into science courses allowing campuses to offer more sections of general education lab science.
All CSU campuses will incorporate technology to streamline advising, registration and academic planning for undergraduate students over the next four years.
Education Attorney Named CSU General Counsel
Framroze Virjee has been appointed CSU Executive Vice Chancellor and General Counsel.
A long-standing partner in the Labor and Employment practice of O'Melveny & Meyers in Los Angeles, Virjee brings nearly 30 years of experience in public education, collective bargaining, Education Code compliance, discrimination and labor litigation to his new role overseeing the CSU's 35 attorneys and paralegals. A recipient of numerous awards, including seven consecutive citations as one of The Best Lawyers in America, Virjee received his bachelor's degree from UC Santa Barbara and his law degree from the UC Hastings College of Law. Read more.
CSU Teacher Prep Programs Yield Successful Results
The CSU continues to graduate well-prepared K-12 teachers according to a report from the CSU Center for Teacher Quality (CTQ), presented to the Board of Trustees at its meeting this week.
The CTQ conducts an annual systemwide evaluation of all CSU credential program graduates near the end of their first year in classrooms to assess the quality, value and effectiveness of their preparation to teach. Ninety-one percent of 2010-11 graduates reported positive levels of satisfaction with their credential program's usefulness in preparing them to teach; 90 percent of school leaders believe the new teacher under their supervision has been prepared to provide excellent learning opportunities or has very good potential to become excellent, due substantially to her/his university preparation. Read more.
Humboldt State President to Retire
Humboldt State University President Rollin Richmond will retire at the end of the 2013-14 academic year.
Richmond has championed campus diversity, and students from underrepresented groups now make up 31 percent of the student body. He has also secured funding for campus improvements including the Behavioral and Social Science classroom building and the Kinesiology and Athletics building, and has strengthened the university's community service program. Read more.