CENTER OF ATTENTION
by Jacob Bennett
Channon Fluker doesn't like to talk about herself.
She's always been quiet, keeping to herself and sticking with a small group of friends — usually teammates.
She waited until high school to try basketball — and even then, she was reluctant. Fluker '19 (Child and Adolescent Development), who is now 6 feet, 4 inches, was taller than almost every other girl at John Muir High School in Pasadena. Her brother Collin was one of the most vocal among her loved ones and friends who kept telling her she could earn a college scholarship if she turned out to be any good at the sport.
It didn't take long for her gift to become apparent. After transferring to Maranatha High School, a Christian private school in Pasadena, she averaged an astounding 18.2 points per game and 23.6 rebounds. She followed that up with 19.6 rebounds and 27.5 points per game her senior year. But even after she signed to play for CSUN, she would have preferred to fly under the radar. To put it mildly, that was not in the cards.
In her four seasons as a center at CSUN, Fluker established herself as one of the greatest players to ever wear the Matadors jersey. She holds eight CSUN Women's Basketball career records, including most points (2,119), rebounds (1,425) and blocks (311), which also rank in the Top 10 all-time for the Big West Conference. She twice earned Big West Conference Player of the Year honors, as well as two conference Defensive Player of the Year awards and four first-team all-conference honors.
But she scrunches her face in distaste when described as the "face of the team."
"The spotlight, interviews and seeing my face on stuff is surprising to me," Fluker said. "It was definitely stepping out of my comfort zone. It was something I did need to learn to do, coming out of my shell."
At the end of her storied CSUN career, Fluker reflected on her accomplishments and discussed what's next — her agent is looking for the right opportunity to play overseas. She would be the 11th professional player in Head Coach Jason Flowers' nine-year tenure, the most recent being Fluker's former teammate Tessa Boagni, who currently plays for the Canterbury Wildcats of the Women's Basketball Championship in New Zealand.
Before she ever donned a basketball jersey, Fluker was a middle school cheerleader. She enjoyed the camaraderie and she would have stuck with it, she said — if she'd been shorter. But by freshman year of high school, she gave in to genetics (and her older brother), following in the footsteps of her sister Tye'sha Jones, who played college basketball at Tennessee and for the WNBA's Charlotte Sting.
Flowers said he was most impressed by how Fluker dealt with the pressure during her collegiate career.
"Nobody else on the roster understands what it's like to be expected to produce at a high level, every single game, in order for the team to be successful," he said. "She came here as a kid who didn't expect any of this. She didn't handle it perfectly every single time, but she handled expectations and lived up to them."
Basketball — and coaching from the CSUN Athletics sports communications department for interviews — helped Fluker come out of her shell. She even found herself becoming more outgoing at the Associated Students Children's Center early childhood center, where she worked as a student assistant for more than two years.
With the Matadors, Fluker also found the camaraderie she'd felt during her cheerleading days. She spoke fondly of CSUN's annual road trips to Cal Poly, where the team stayed a short walk from the beach. It became a tradition to bond there or in the hotel.
Her on-court highlight, she said, was the 2018 Big West Tournament championship game against top-seeded UC Davis. The Matadors had a great week of practice leading up to the game, but they trailed the Aggies 29-24 at halftime. During a talk in the locker room, the team decided to fight.
"We didn't go through everything we went through that week, just to lose," Fluker said. The Matadors rallied back, winning 63- 55 and punching their ticket to the NCAA Tournament.
---
Dave Serrano Named New Head Baseball Coach
by Nick Bocanegra
On June 23, CSUN announced the hire of six-time NCAA Tournament head coach Dave Serrano as the 10th head coach of the Matador baseball team. One of the most experienced and respected coaches in college baseball, Serrano has spent 24 seasons coaching at the Division I level, including 13 seasons as head coach. Serrano is one of 12 coaches of all time to lead two different schools to the College World Series. In his six NCAA Tournament trips as a head coach, he led four teams to the NCAA Super Regionals. His overall head coaching record is 446-302-1.
"With his long history of success on the national stage, we are excited to have Coach Serrano lead the Matador Baseball program," said Director of Intercollegiate Athletics Mike Izzi.
"He has a wide breadth of experience in the Big West and beyond, and we are confident that he will take the program to the next level. Dave will also provide a first-class experience for our baseball student-athletes."
"It's an honor to be chosen as the new head coach for the CSUN Baseball program," Serrano said. "I want to thank athletic director Mike Izzi and his administration for their trust in allowing me to lead Matador baseball now and into the future. I'm elated to coach, mentor and develop what I believe is a good core of returning players."
Serrano has strong ties to Southern California and the Big West, with successful stints at UC Irvine and Cal State Fullerton. Named Big West Coach of the Year in 2010, Serrano coached the Titans to three conference championships. Serrano also spent six seasons as head coach at Tennessee, from 2012-17. Most recently, Serrano spent the 2018 season at West Virginia as the Mountaineers' pitching coach.
---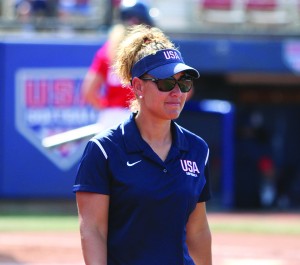 Flowers Selected as USA Softball Assistant Coach
by Codi Warren, USA Softball
USA Softball this year selected Tairia Flowers as one of three assistant coaches for the 2019 USA Softball Women's National Team. Flowers is a veteran of the coaching staff, after serving within the program since 2011.
With her fellow coaches, Flowers joined Head Coach Ken Eriksen in leading the national team in their continued preparation for the Tokyo 2020 Olympic Games, with tour stops and international competitions in the 2019 season. Flowers, a two-time Olympian, helped the U.S. to a perfect record and the gold medal at the 2004 Athens Olympics, and to a silver medal at the 2008 Beijing Olympics. She also won gold medals at the 2002 and 2006 WBSC Women's World Championships, the 2003 and 2007 Pan American Games, and the 2001 U.S. Cup.
After retiring as a player, Flowers joined the Women's National Team coaching pool, where she has served in a variety of roles since 2011. She was also a member of coaching staffs that led the Women's National Team to the 2011 Pan American Games gold medal and a silver medal at the 2012 WBSC Women's World Championship.
"It's always a privilege to be a part of USA Softball," Flowers said. "We have such an amazing group of athletes, not only on the field but off it. With that type of talent, you can't help but grow as a person and coach. I feel fortunate to help this team train and prepare as we get ready for the season."
Athletics Unveils New Senior Administration
In late April, Director of Intercollegiate Athletics Michael Izzi announced a new administrative structure for the CSUN Department of Intercollegiate Athletics. Valerie Richardson, Julius Hicks and Shareef Amer comprise Izzi's senior administration for Matador Athletics.
"Since arriving on campus in August 2018, I have spent time getting to know the members of the department, the roles they play and how we can best collectively meet the needs of our 19-sport intercollegiate athletics program," Izzi said. "We are fortunate to have an outstanding group of administrators and staff who are dedicated to serving our student-athletes and helping them succeed in all aspects of their collegiate experience."
Valerie Richardson, executive associate athletics director, joined CSUN in March after spending 10 years at the University of Virginia, where she served as senior associate athletics director. At CSUN, Richardson supervises the Men's and Women's Soccer, Men's Volleyball and Women's Tennis programs. She also has oversight of the athletics department's budget, business office, human resources and the Student-Athlete Advisory Committee.
Julius Hicks, senior associate athletics director for external relations, joined CSUN in January and oversees development, marketing, sports communications and CSUN's Learfield partnership. Hicks also has oversight of the Matador Men's and Women's Basketball and Men's and Women's Golf programs.
Shareef Amer, associate athletics director for administration and operations, joined CSUN in September 2018 and was promoted to his current position in February. Amer oversees the compliance services office, facilities, events and game-day management, and he is responsible for strategic planning for the department. Additionally, Amer supervises the Baseball, Softball, Women's Volleyball, Women's Beach Volleyball, and Women's Water Polo programs.