5 CSUN Student-Entrepreneur Teams Advance to Bull Ring Competition Finals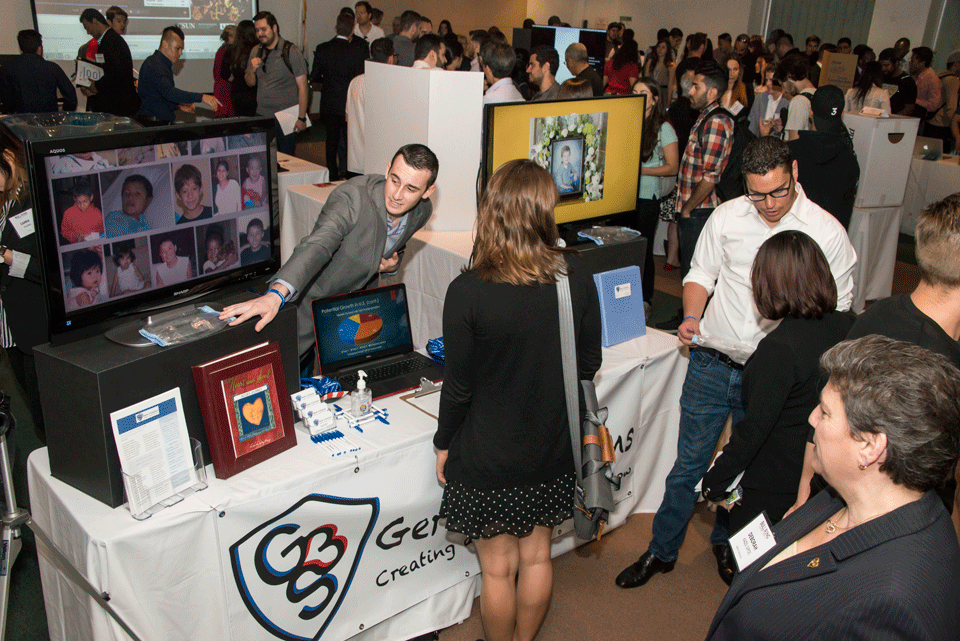 Josh Halem, a senior business management student at CSUN, pitches his team's new venture idea, Germ 3 Solutions, to onlookers during the Bull Ring Competition's semifinal round. Photo by David J. Hawkins.
California State University, Northridge hosted the semifinal round of its Bull Ring New Venture Competition in the Delmar T. Oviatt Library's Jack and Florence Ferman Presentation Room on April 4.
The contest connects entrepreneurial CSUN students with business professionals and offers cash prizes ranging from $5,000-$20,000 to fund their startup ideas. It is co-organized by CSUN's David Nazarian College of Business and Economics and its on-campus branch of the Los Angeles Cleantech Incubator (LACI@CSUN).
Forty-six teams applied for the contest, with 20 being selected to compete in the trade show-style, semifinal event. Each team had its own booth dedicated to informing attendees about its business idea. Five teams advanced to the final round, which will take place on May 2. Every semifinalist team was awarded $250.
Students who attended the semifinal round were encouraged to vote online for their favorite startup idea. The team with the most votes was guaranteed a spot in the finals, while the remaining four slots were filled based on the decisions of 10 judges.
"It was a hard-fought battle with many truly phenomenal student entrepreneurs," said Ryan Holbrook, director of the Nazarian College's Entrepreneurship Program. "The judges' deliberation period lasted nearly an hour in what was a very lively discussion — a testament to the overall level of quality and polish of our teams."
Tint — an app that utilizes color theory algorithms to help users find fashionable outfits while shopping online — won the audience vote. Adrian Gonzalez, a CSUN computer science senior and Tint's founder, said he was honored to see so many students support his team's vision.
"I still can't believe it," Gonzalez said about winning the vote. "Two hundred thirty-five people supported our team with this idea that I've been dreaming about for over a year. It's amazing to know that people care."
The four finalists the judges selected are Omnigreen, a startup that builds affordable, plant-based air purifiers; MyGymPals, an app that allows exercise enthusiasts to join fitness communities and find gym partners; Germ 3 Solutions, a company whose first product — the Body Substance Isolation Sleeve — helps reduce the spread of germs while doctors measure patients' blood pressures; and Sleepyhead, an online startup that sells boxed memory foam beds and donates one mattress to charity for every 10 units sold.
The final event is modeled after the hit ABC TV show "Shark Tank." The five teams will pitch their business ideas to five distinguished judges: LinkedIn co-founder Allen Blue, Enplug CEO Nanxi Liu, PCS Development CEO Paul Jennings, COACCEL co-founder Cam Kashani and R6S CEO Ash Sobhe. The first-place team will win $20,000, while the second- and third-place finishers will receive $10,000 and $5,000, respectively.
The top three finishers will also receive legal startup services courtesy of DLA Piper, accounting services courtesy of Armanino, LLP, marketing services donated by SKY Marketing Consultants, a psychological brand design studio, and a three-month trial membership to LACI@CSUN, the university's on-campus startup incubator.
"The Bull Ring Semi-Finals were an exceptional display of a growing entrepreneurial spirit and innovative talent at CSUN," said LACI@CSUN Executive Director Tom White. "The mentors at LACI@CSUN look forward to working with each of the Bull Ring finalists, together with Ryan Holbrook in the Entrepreneurship Program, to help the teams realize their startup ambitions and prepare for what we know will be a robust and very exciting finals competition."
"I think with that money and the other services we could win, the possibilities are endless," Gonzalez said.
For more information about the CSUN Bull Ring New Venture Competition, please visit www.csunbullring.com or contact Ryan Holbrook at ryan.holbrook@csun.edu or (818) 677-4510.