CSUN 2015 Whitsett Seminar and Lecture Will Highlight California History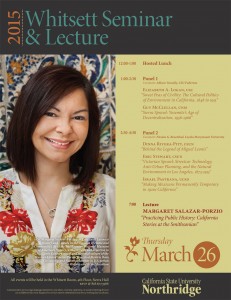 California State University, Northridge's annual Whitsett Seminar and Lecture will focus later this month on California's diverse immigrant and environmental history.
As part of this seminar, graduate students from various universities will present papers on subjects ranging from community sprawl to technology and early 20th century Mexican experiences.
"Our annual Whitsett lecture focuses on public history as a discipline and career," said history professor Josh Sides, CSUN's Whitsett chair of California history.
The seminar begins at noon with a luncheon on Thursday, March 26, in the Whitsett Room, on the fourth floor of Sierra Hall. The event will continue at 7 p.m. with a lecture by Margaret Salazar-Porzio, the curator of Latino/a history and culture at the Smithsonian National Museum of American History.
"[Porzio] was chosen because, as curator at the Smithsonian, she holds a prominent position in the field of public history and she is particularly engaged with Western and California history," said Sides.
The Whitsett program is dedicated to supporting scholarship with a focus on California history as a vehicle for contemporary analysis. Past lecture topics have included community health of South Los Angeles in light of historical perceptions and gentrification in Echo Park.
CSUN's Department of History hosts the annual seminar and lecture to honor the memory of W.P. Whitsett and his pioneering role in the San Fernando Valley, and to allow select graduate students to collaborate on discussions pertaining to California history.
Whitsett had a long career in the fields of mining, irrigation and real estate. In 1905, Whitsett moved to Southern California. In 1911, he became the enthusiastic founder of Van Nuys, describing Valley land as "among the richest and best in California." Whitsett championed the establishment of Van Nuys, the introduction of agricultural advances, banking and water from the Owens Valley. He served on the board of the Los Angeles Department of Water and Power and as the first chairman of the Metropolitan Water District of Southern California from 1930 to 1947. He led the successful effort to bring Colorado River water to Los Angeles, which facilitated the post-World War II expansion of Southern California.
The seminar is free and open to the public, but reservations are requested. For more information or to make a reservation please call (818) 677-3566.