CSUN-al Gardening to Cultivate Your Tool Sense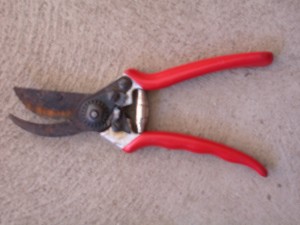 Having the right tool improves efficiency and workflow, especially in the garden. However, the bewildering assortment of brands, models and features can discourage the average customer, and lead to impractical impulse purchases.
            Landscape designer Steve Gerischer will help home gardeners find the right tools for their tasks at the next CSUN-al Gardening class on Saturday, June 1, at California State University, Northridge.
"Some of the questions that will be answered during the class include which garden tools are essential for the home gardener, and which are Steve's favorites," said Brenda Kanno, manager of the CSUN Botanic Garden. "He will also discuss which are the most reliable brands of garden tools, and who sells them, and what the daily versus seasonal maintenance care is for garden tools? He'll even address that age-old question: Can a rusty pair of hand pruners be rehabbed and made serviceable again?"
Kanno said Gerischer will demonstrate the step-by-step process for restoring some garden tools. She added that attendees of the class are encouraged to bring unusual garden tools and tools they don't know the function of.
The topic of power tools will not be covered in the class, Kanno said.
Gerischer, proprietor of Larkspur Garden Design, lectures on a wide variety of horticultural topics. He also is the president of the Southern California Horticulture Society and past president of the Pacific Horticultural Society. He has taught classes at the Los Angeles County Arboretum, Descanso Gardens and Fullerton Arboretum, and has put in an occasional appearance on HGTV, most notably on "Landscaper's Challenge."
Registration for the free class is required. To request a space in the class, email botanicgarden@csun.edu. Include your name and the number of seats you are requesting in the email. Driving and parking instructions, as well as the class meeting location, will be sent upon registration.
California State University, Northridge's Botanic Garden is operated by the university's Department of Biology, and serves as a field site for botany, entomology, photography, painting and other classes. In addition to geographically themed plantings and a butterfly garden, the garden also features greenhouses where noteworthy botanical specimens are grown.
The garden is open to the community. Visit the Botanic Garden website at www.csun.edu/botanicgarden/for more information.