CSUN Faculty Offer Tips for Keeping the Holidays Healthy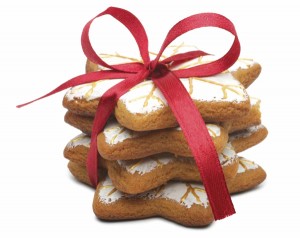 The holidays can be filled with laughter, fun and gatherings of family and friends that may not always include healthy choices. The faculty in California State University, Northridge's College of Health and Human Development have some advice to ensure the festivities don't damage the wallet or waistline.
"We can stay fit, eat well and still have fun," said Terri Lisagor, interim chair of CSUN's Department of Family and Consumer Sciences.
The first tip, from recreation and tourism management professor Craig Finney. He said "play."
"Did you know that games with rules reinforce cultural behaviors, and games without rules invite creativity?" Finney asked. "Try mixing it up these holidays. Play an established game a new way: decide how to play as you go. The only rule: be respectful of each other—no rule stands unless all players are in agreement."
Finney also suggested that people be inventive.
"Pretend play—no rules and spontaneous—moderates your psycho-physiological condition and reduces stress," he said. "Studies have shown play not only makes you feel better while your having fun, it actually does make you happier over the long run."
Amidst all the partying, kinesiology professor Steven Loy advised people not to lose their focus on fitness.
"Holiday time brings on extra calories, and not necessarily in the most nutritious forms," Loy said. "Walk 30 minutes a day, five days a week. Whatever your fitness routine, keep it going."
Loy noted that one doesn't have to work out in one large lump of time each day for the exercise to be of benefit. It can be done in small increments.
He also warned people to beware of "holiday weight creep."
"It's so very real, but most people don't report noticing the creep until January," he said. "Skip the idle 'treats' on the counters and in the break room at work. That way, after your holiday dinner, you can honestly say you have room for pie."
Family and consumer sciences faculty and dietetic internship director Annette Besnillian suggested that holiday revelers also use the federal government's MyPlate guidelines during mealtimes: fill half their plate with fruits and vegetables, a quarter with whole grains and one quarter with a lean protein.
"Adding fruit to your plate helps reduce the amount of fat and refined sugar you're likely to eat when desserts are served," she said.
When asked to contribute a dish to a holiday potluck, Besnillian suggested bringing a Mediterranean platter. "Sliced vegetables, olives, whole grain crackers and hummus are nutritious crowd pleasers," she said.
When it comes to money, family and consumer sciences professor Tom Cai said to plan ahead before going holiday shopping.
"Develop a gift-giving budget, make a list of gift recipients and set a spending range for each person," he said. "Be realistic about your holiday budget, and stay within it."
He also suggested using cash when shopping.
"Withdraw a set amount and leave your credit cards at home to reinforce staying within your budget," Cai said. "You can enjoy the feeling of knowing you're paying on the spot—and no extra bills, or interest charges, will hit you in January."
Family and consumer sciences professor Yoko Mimura said there is one more thing to keep in mind.
"Holidays are often about celebrating something meaningful with loved ones," she said. "This does not have to cost a lot of money."