CSUN Forum to Explore Efforts to Bring End to Violence in Mexico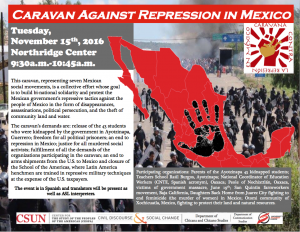 A coalition of seven organizations fighting the rise of violence in Mexico will be at California State University, Northridge on Tuesday, Nov. 15, to talk about what is happening in their home country.
The discussion will take place from 9:30 to 10:45 a.m. in the Northridge Center of the University Student Union, located on the east side of the campus at 18111 Nordhoff St. in Northridge.
"Seven different social justice organizations from Mexico have been touring the United States since early October to try to bring attention to the violence they are experiencing in Mexico, especially southern Mexico," said Martha Escobar, an associate professor in CSUN's Department of Chicana and Chicano Studies and one of the organizers of the event. "This is an opportunity for our students to learn what is happening in Mexico from the people who are directly affected by what is going on."
Escobar said among those taking part in the presentation are San Quintin farm workers from Baja California, parents of some of the 43 missing college students who are believed to have been kidnapped two years ago, and the mothers of women who were murdered in Ciudad Juarez.
"They, and others in their caravan against repression in Mexico, have joined together to draw attention to what is happening in their country and to bring solidarity to those who have been affected by it and want to see it stopped," Escobar said. "They've come to the U.S. to create awareness and start a conversation, and foster solidarity between the peoples of the two countries who want to end the violence. They also want to help us understand the role the U.S.  plays in helping to shape what happens in Mexico."
The presentation is being sponsored by CSUN's Center for the Study of the Peoples of the Americas, Civil Discourse and Social Change initiative, Department of Chicana and Chicano Studies, Department of Communication Studies and University Student Union.
For more information, contact Escobar at martha.d.escobar@csun.edu.