CSUN Lecture Addresses Disaster Readiness and Community Resilience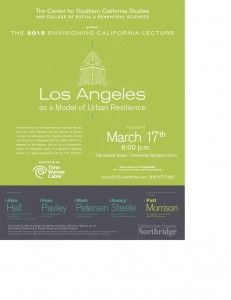 Climate change, drought, earthquakes and fires are just some of the disasters Los Angeles has to anticipate. How capable will the city be in the face of ongoing challenges and unexpected events?
California State University, Northridge's Center for Southern California Studies explores the challenges that can make it difficult to respond to disruptions during the 2015 Envisioning California lecture, "Los Angeles as a Model of Urban Resilience." The event is scheduled to take place on Tuesday, March 17, at 6 p.m. in the CSUN Grand Salon of the University Student Union off Zelzah Avenue.
Panelists include Alex Hall, a UCLA professor of atmospheric and oceanic studies; state Senator Fran Pavley; Matt Petersen, Los Angeles chief sustainability officer, and Nancy Steele, executive director of the Council for Watershed Health. The panel discussion, led by Patt Morrison, Pulitzer Prize-winning columnist for the Los Angeles Times, will be followed with a Q&A and light reception.
The lecture's focus on Los Angeles and urban resilience developed from heightened awareness about the effects of climate change on the region. Preparing for unexpected threats and ongoing stresses is the focus of Los Angeles's partnership with the nonprofit organization 100 Resilient Cities of which Los Angeles is a founding member.
"In July, Mayor Eric Garcetti announced that the city would appoint a chief resilience officer, signaling dedication to ensuring that the city can respond to both expected threats, like climate change, and unexpected threats like a natural disaster," said CSUN political science professor Kristy Michaud, director of the Center for Southern California Studies. "We are interested in learning more about what kinds of impacts the Los Angeles area can expect as the climate changes, and what the City of L.A., non-profit organizations and the California Legislature are doing to address chronic stresses and prepare for unexpected threats."
She said the event highlights the common goals shared by CSUN and the broader Southern California community in regards to addressing physical, social and economic issues that contribute to urban resilience.
"This conversation opens up greater dialogue and brings visibility to areas of expertise at CSUN that may lead us to collaborate with government and community to address these collective issues," said Michaud.
The lecture is free of charge and open to the public. Reservations are requested. Parking is $6 per car and may be purchased at the information booth at Prairie Street and Zelzah Avenue. Communication services are available upon request and must be submitted at least five working days in advance of event.
For more information about the Center for Southern California Studies please visit http://www.csun.edu/center-for-southern-california-studies. To register for the event go to envca2015.eventbrite.com or call (818) 677-7169