CSUN Marine Biology Program Studies Effects of El Niño on Coral Reefs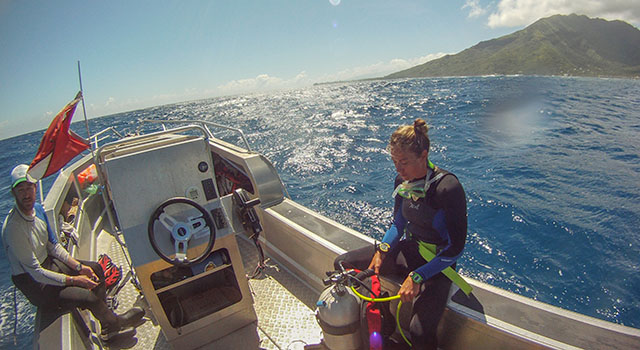 CSUN marine biology graduate students Daniel Sternberg, left, and Jesse Bergman, right, prepare to dive into the depths of Mo'orea's coral reefs . Photo provided by Peter Edmunds.
While people across the Pacific coastline have been pelted with the torrential downpour of El Niño, California State University, Northridge biology professor and coral reef expert Peter Edmunds delved deep below the ocean's surface to monitor and study the effects El Niño has on coral reefs.
As part of an ongoing decades-long research project on reefs, Edmunds and a team of CSUN biology graduate and undergraduate students began a one-year National Science Foundation RAPID-funded research project in January on the island of Mo'orea to see if El Niño's affect on rising water temperatures could in turn change coral growth rates.
"We are now in what is thought to be an extremely serious El Niño event, with high sea waters and epic rain," Edmunds said. "Part of that package is that the seawater is expected to get unusually warm in the tropical Pacific and the Caribbean. The projections suggest there will be negative effects in Mo'orea and that they will be strong. But we don't know they will be strong until they take place."
The project is aimed at seeing how El Niño's warm waters may affect the growth rate and arrival of coral larvae near Mo'orea, Edmunds said. He and his students are monitoring the effects by scuba diving and cementing terra-cotta floor tiles to the sea floor that collect the larvae. The process will occur in three waves, from January 2016 to January 2017, Edmunds explained.
"Baby corals arrive from larvae that are only about one-sixteenth of an inch long. So they are teeny weenie," he said. "They swim through the water, and they are affected by [water] temperature in two ways — if it is very hot, corals tend not to reproduce. So, the larvae drifting in the water don't do so well."
Graduate biology student Daniel Sternberg emphasized the importance of the study being done now, explaining it is unknown when another study on El Niño's effects can be done.
"El Niño is happening right now," he said. "It could have serious implications on the reefs. We are not seeing bleaching quite yet, but if we don't start monitoring right now, we don't know if we ever will."
Fellow graduate biology student Jesse Bergman said studying the effects of climate change on the reefs is valuable research for the future of reefs around the globe.
"I think this whole field of marine science and climate change is a big deal and really important," Bergman said.
Edmunds added that understanding how coral reefs are reacting and adjusting to climate change is vital to those regions that live with them.
"Coral reefs are a critical source of biodiversity," he said. "They are a critical resource for fisheries. They are critical resources of economic gain. People go on vacation to clear blue waters to see cool stuff [like corals]. At a crass level, corals generate millions and millions of dollars for island economies. At a pragmatic level, they provide this intense barrier of coastal protection.
"Tropical regions are always being hit by hurricanes and cyclones," he noted. "One of the reasons they don't destroy the land is because there is this big old calcareous barrier out there."
Edmunds added that the corals also are important for training the next generation of researchers.
"I think one of the thoughts that comes to my mind is just how fortunate we are to get this support at CSUN, and what a really unique opportunity it is to launch our students into these really important and life-changing experiences," Edmunds said. "I have invested a large part of my life into getting students out into the field. It is so different from being in a classroom where you go, 'yak, yak, yak.' Instead, you get them out there. I take a tremendous satisfaction in seeing people grow up, what they go on to do and that the lessons they had at CSUN are being used in their work."
Both Bergman and Sternberg agreed the research project has given them an immense opportunity to conduct scientific work.
Bergman said she has learned important lessons in how to conduct research from her trips to Mo'orea this year.
"I think one of the things I've learned is to be flexible," she said. "That is the nature of field work. You are in nature and at the whim of the ocean. You must adjust."
Sternberg agreed.
"Our professor does a good job of providing great opportunities for us," he said. "He knows that we are interested graduate students who are big fans of Mo'orea. We are passionate about the work and he is gracious and allows us to come here time and time again."