CSUN MBA Students 'Make a Strong Statement' in First Appearance at International Business Ethics Case Competition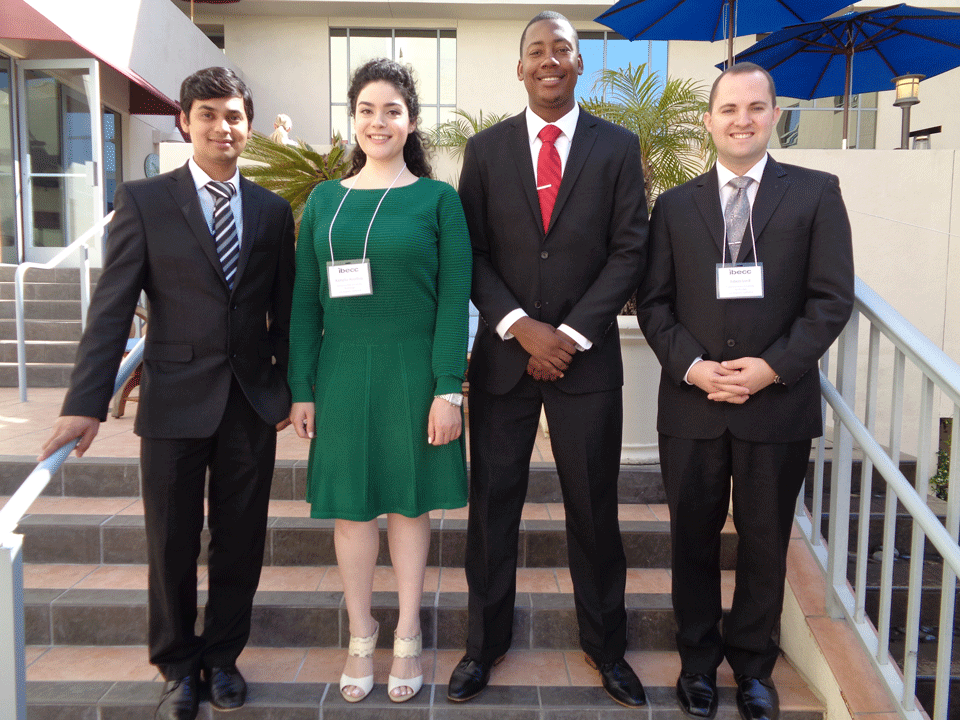 (L-R) CSUN MBA students Saumil Shah, Kamelia Assefnia, Damajaha Netherly and Edwin Lord won second place in their division at the 2017 International Business Ethics Case Competition. Photo courtesy of Edwin Lord.
A team of graduate students from California State University, Northridge's Master of Business Administration (MBA) program competed at an international business competition that showcased their grasp of business ethics. The team of four students took second place in their division.
This was the first time CSUN participated in the International Business Ethics Case Competition, which was held from April 19-21 at the J.W. Marriott Hotel in Santa Monica. Universities from around the United States and the world — including Arizona State University and England's Oxford University — sent teams to compete. The graduate teams were split into two divisions. CSUN finished as runners-up in the second division behind The Hong Kong University of Science and Technology, while Oxford won first place in the first division.
Teams had to choose a current ethical dilemma in the business world, identify the legal, financial and ethical issues surrounding it, and propose a solution. CSUN's team chose to focus on four specific cases of charity fraud.
"We initially proposed our ideas, but none of them stuck. So, we brainstormed and ended up settling on my idea, which was nonprofits," said Edwin Lord, a first-year CSUN MBA student. "From there, we did research and found these four cancer charities that basically scammed Americans out of millions of dollars."
Along with Lord, CSUN's team included Kamelia Assefnia, Damajaha Netherly and Saumil Shah. Lord said the team had to dig into the court cases surrounding the fraudulent charities, to find the legal loopholes that allowed them to initially get away with their activities.
"Once we identified those loopholes, it was pretty simple to come up with solutions for how we could fix them," he said.
During the presentation, the CSUN team played the role of a charity consulting company while the judges acted as executives from four major accounting firms. Following the 25-minute presentation, the judges broke character to give the team feedback.
Stuart Pardau, a CSUN business law professor and one of the team's coaches, said he was proud of what the students accomplished.
"The team put in an outstanding effort and performed at a high level," Pardau said. "It was a great opportunity for the team members to show the judges of the competition — and themselves — what they can do. And the team delivered on the opportunity."
Lord said he hopes CSUN's performance helps further establish the university as a top-notch business school.
"It was a phenomenal thing [in which] to participate," Lord said. "Looking at the competition's history, it's the same schools that always compete year after year — Oxford and a few others. Big deal. But this was the first time CSUN participated, and we took second. That makes a strong statement."