CSUN Session to Offer a Primer on Black Empowerment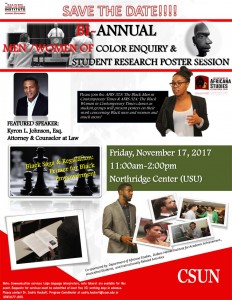 Empowerment and inspiration can be found in the stories of those who have preceded us. For CSUN's students of color, that inspiration can be a catalyst for achieving their dreams.
Students will share where they have found the seeds of empowerment at CSUN's fall Bi-Annual Men/Women of Color Enquiry and Student Research Poster Session from 11 a.m. to 1 p.m. on Friday, Nov. 17, in the Northridge Center of the University Student Union, located on the east side of the campus at 18111 Nordhoff St. in Northridge.
The session, "Black Saga & Regulation: Primer for Black Empowerment," is a collaboration between Africana studies professors Cedric Hackett, who teaches the class "The Black Man in Contemporary Times," and Marquita Gammage, who teaches "The Black Woman in Contemporary Times."
"Underrepresented populations have an extensive and dense layer of epic achievements within the construct and ideology of the United States," said Hackett, who has organized the bi-annual event for the past five years. "Oral histories of the past benefit the descendants of enslaved Africans in ways that help them understand, cope with and develop an awareness of our movement forward. That mustard seed of faith from the ancestors has provided the catalyst for black empowerment throughout our struggle."
The session will feature student research, as well as an appreciation of African heritage and a reflection on the culture and experiences of black people. In addition to the posters, some students will perform "Black Manologues," soliloquies that address themes in a black man's character.
The event's scheduled keynote speaker is Camarillo-based attorney Kyron L. Johnson.  Johnson grew up in Ventura County and was a standout football player in high school. He was scouted by some of the nation's leading colleges, all interested in having him play for their teams.
Hackett, who played football with Johnson, said attention from those colleges disappeared when Johnson made it clear that his career interests were academic, not athletic.
"The image he had of himself had to change once they stopped pursuing him with scholarships," Hackett said. "He has always been the star athlete. The stereotypical black male identity is either that of an athlete or an entertainer. Kyron did not fit in either of those boxes. He had to utilize skills he learned while playing football — leadership and discipline — and transfer them to another area of professional development. He's now a successful lawyer, and he has a remarkable story to share."
For more information about the Men/Women of Color session, email Hackett at cedric.hackett@csun.edu.