CSUN Student Recreation Center Receives Architecture Award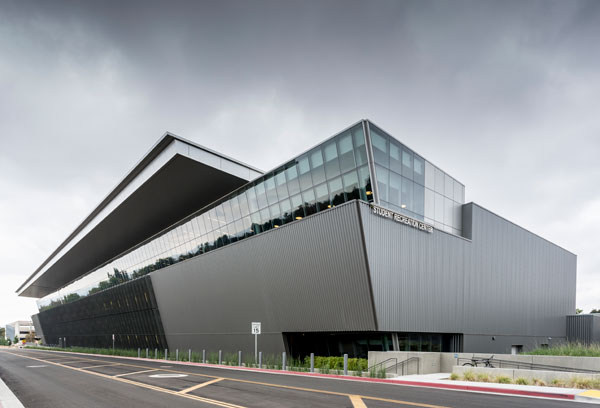 CSUN's Student Recreation Center has received an award for for outstanding architectural design in education.
The Student Recreation Center (SRC) at California State University, Northridge has been recognized by the Los Angeles Business Council for outstanding architectural design in education.
The center, which was created by the design and executive architecture firm LPA Inc., was honored during the 44th Annual Los Angeles Architectural Awards ceremony in Beverly Hills earlier this summer.
Selected by a jury of 25 design and building professionals, the SRC represents the highest quality of achievement in design, commitment to sustainability and community impact, according to representatives with the Los Angeles Business Council.
"The SRC is a perfect marriage between form and function," said University Student Union Director Debra Hammond. "More importantly, the SRC has had a positive impact on the CSUN campus community ­– encouraging all of us to focus on our health and well-being."
The Education Award and other honors given out at the Los Angeles Architectural Awards spotlight the best architecture and design in Los Angeles County. Only 36 designs received an award – which included honors for civic, commercial, residential and other buildings – as well as designs that have civic impact.
"It's especially gratifying for the SRC to be recognized by the architectural professionals of Los Angeles," said Student Recreation Center Director Jimmy Francis. "We are pleased to share this award with our general contractor, C.W. Driver, and the project architects at LPA Inc. for their outstanding work."
Previously, the SRC has received the SCUP Excellence Award in 2014, a Leadership in Energy and Environmental Design (LEED) Gold Status Certification in 2013 and the AIA San Fernando Valley Design Award in 2009.