CSUN Whitsett Lecture to Explore the History and Future of South Los Angeles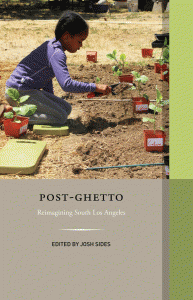 California State University, Northridge's annual W.P. Whitsett Lecture will explore the history, present and future of South Los Angeles on Thursday, April 25.
The lecture, featuring three contributors to and the editor of the anthology "Post-Ghetto: Reimagining South Los Angeles," is scheduled to take place at 7:30 p.m. in the Whitsett Room, room 451 of Sierra Hall, on the west side of the campus at 18111 Nordhoff St. in Northridge.
"We're not just thinking about history, but thinking explicitly about how history is shaping contemporary development and perceptions of South Los Angeles," said Josh Sides, CSUN's Whitsett Professor of California History and editor of "Post-Ghetto: Reimagining South Los Angeles." "The book is really about changing our perceptions of what South Los Angeles, or South Central Los Angeles, is and has been. Frankly, South Los Angeles, or South Central, has cultural meaning in California and even nationally. Our goal is to shed light on recent changes and past perceptions, and illustrate the role history has played in those changes and why history is so important."
The lecture is the culmination of CSUN's annual W.P. Whitsett Graduate Seminar, in which highly ranked graduate students share their research in fields related to California history and receive critical feedback from top scholars. The seminar is scheduled to take place from 9 a.m. to 3:30 p.m. in the Whitsett Room.
The evening lecture will feature presentations Scott Saul, a professor of American studies and English at UC Berkeley, Nat Zappia, an assistant professor of history at Whittier College, Jake Alimahomed-Wilson, an assistant professor of sociology at CSU Long Beach, and Sides.
Saul, Zappia and Alimahomed-Wilson are among more than a dozen scholars who contributed essays to "Post-Ghetto: Reimaging South Los Angeles." The book explores such questions as is South Los Angeles on the mend? How the community is combatting crime, gang violence, high unemployment and dire poverty? Contributors point to robust signs of hope for the areas residents—an increase in corporate retail investment, a decrease in homicides, a proliferation of nonprofit service provides, a paradigm shift in violence- and gang-prevention programs and progress toward a strengthened, more racially integrated labor movement.
CSUN's Department of History hosts the annual seminar and lecture to honor the memory of W.P. Whitsett and his pioneering role in the San Fernando Valley, and to allow select graduate students to collaborate on discussions pertaining to California history.
Over the years, Sides said, many past student participants of the seminar have returned to present their own books on California history or as tenure-track history professors.
"We have created a nice legacy that has helped turn CSUN into a center for California history and studies," he said.
Whitsett had a long career in the fields of mining, irrigation and real estate. In 1905, Whitsett moved to Southern California and in 1911 he became the enthusiastic founder of Van Nuys, describing Valley land as "among the richest and best in California." Whitsett championed the organization of Van Nuys, the introduction of agricultural advances, banking and water from the Owens Valley. He served on the board of the Los Angeles Department of Water and Power and as the first chairman of the Metropolitan Water District of Southern California from 1930 to 1947. He led the successful effort to bring Colorado River water to Los Angeles, which facilitated the post-World War II expansion of Southern California.