CSUN's MBA Program Moves Up 32 Spots in National Ranking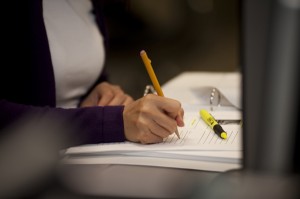 California State University, Northridge's MBA program rose 32 spots in U.S. News & World Report's ranking of "Best Part-Time MBA Programs" released yesterday, March 11.
This is the third consecutive year that the CSUN program has appeared in the elite listing. With its elevated position at 114 nationwide this year, the program now enjoys the second-highest ranking among the 23 institutions in the California State University system.
CSUN's regular appearance and rising position in the list indicates that the program is "among the best of the best," said Program Director Deborah Cours.
"The constant engagement of capable students with world-class faculty and high-profile corporate executives gives our 'Real Deal' program a cutting edge that sets it apart," she said.
The graduate programs in CSUN's College of Business and Economics are getting attention for the new "Real Deal" campaign, highlighting their real value and strengths. The program includes "real faculty," leading researchers with real-world experience; "real experience," students engage in award-winning, hands-on learning experiences; and "real campus," where regular events connect students with top executives.
Only programs vetted by the world's premier business-school accrediting body, the Association to Advance Collegiate Schools of Business International — which recognizes about 5 percent of business-degree-granting institutions worldwide — are considered for inclusion in U.S. News & World Report's annual rankings, magazine officials said. Part-time MBA programs within that select group of colleges and universities are evaluated based on peer assessments from deans and program directors of other institutions as well as entering students' GMAT and GRE scores, undergraduate grade point averages and work experiences.
CSUN's Master of Business Administration (MBA) program is designed for working professionals, with classes offered in the evenings. Professors use an engaging mix of lectures, business case analysis, current articles, topical reading materials, class discussion and group activities with a focus on experiential learning. Students are encouraged to openly discuss and share ideas, with their peers as well as their professors.