CSUN's Method for Measuring Student Success to be Expanded to All 5 CSU Campuses in LA Area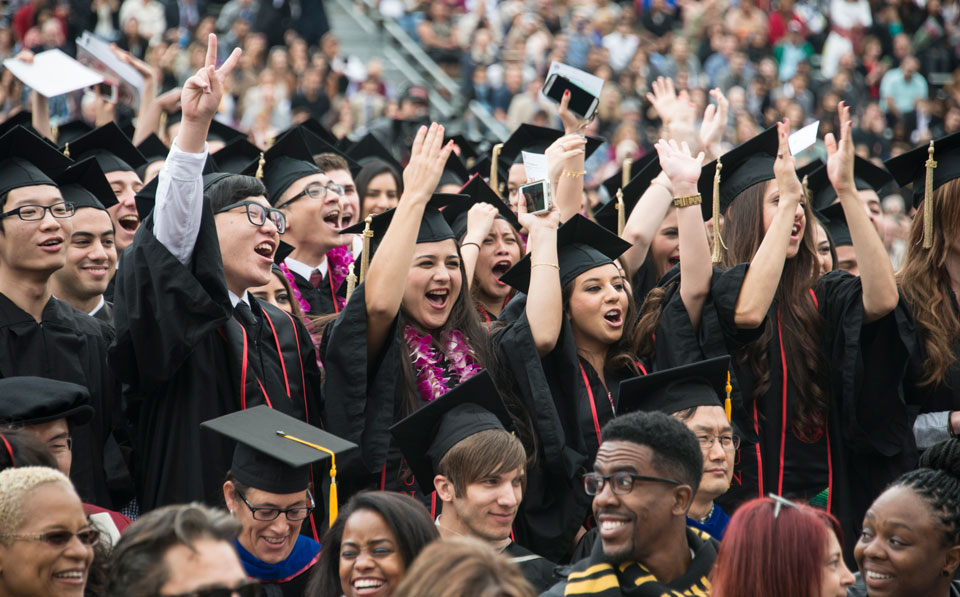 A method developed by CSUN business professors to measure college graduate success has received support from USA Funds, Inc. to apply their methodology to all five CSU campuses in the Los Angeles area. Photo by Lee Choo.
A method developed by California State University, Northridge business professors to measure college graduate success — including employment and earnings — has received support from USA Funds, Inc., which awarded the researchers more than $289,000 to apply their methodology to all five CSU campuses in the Los Angeles area.
USA Funds is a leading nonprofit organization that promotes success for students in college and in their careers. Lorenzo L. Esters, USA Funds' vice president for philanthropy, said the organization supports models of measuring the value of college to help students, parents, policymakers and education leaders make better choices.
"The CSU model is unique because it considers students who graduated, those who transferred and completed their degrees at another campus, those who went on to graduate studies and those who did not complete college," Esters said.
The new effort should provide students and their families with usable information on the the economic impact of their college choices, so they can make better-informed decisions. The project also will provide policymakers, as well as campus administrators, faculty and staff, with clear information about the role graduates of the Los Angeles-area CSUs — Northridge, Los Angeles, Dominguez Hills, Long Beach and Pomona — play in the region's economy. The first report is expected to come out in fall 2017.
"We feel we have 'invented a better mousetrap,' and now people are coming to us," said management professor Richard Moore, who partnered with economics professor Kenneth Chapman to develop what they believe is a more accurate way of measuring the success of college graduates: using state employment and tax data to track how much alumni earn two years, five years and 10 years after they graduate from an institution.
Since a vast majority of students attending the Los Angeles-area CSUs remain in the region after graduation, their impact on Southern California's economy is significant.
"We will be able to show what industries CSU graduates go into," Moore said. "The Los Angeles County Economic Development Corporation targets industry clustered within the region with the most growth potential. With this data we will see how the graduates we produce align with these growing industries, like health care, entertainment and business services. We will be able to show a connection between the area's economy and graduates of the CSU five. In addition to the business community, it's also valuable information for first-time freshmen and graduate students, and their parents, as they decide where they want to go to college and what to major in."
Moore and Chapman, with the help of Bettina Huber, recently retired director of institutional research, established five guiding principles they argue create a realistic, unbiased way of measuring the success of an institution's students: follow all matriculated students over time; use standard data available in every state, such as employment records and tax rolls; create standard, easy-to-understand labor market measures; break down data to the campus and program level; and make the results public.
The researchers used this method to measure the economic success of CSUN students. They collected records for all entering students, including first-time freshmen and transfer and post-baccalaureate students, from the years 1995-2005. They issued their first report in 2013, offering a snapshot of CSUN students' success.
Five years after leaving CSUN, the average annual salary for the university's graduates was about $51,000. For those who completed graduate degrees, the average annual salary five years out of CSUN was more than $68,000, while the salary for those who dropped out of the university was about $38,000.
The follow-up study, released last fall, took a look at the annual salary for CSUN students 10 years after they leave the university. CSUN graduates earn, on average, $64,000 annually a decade after leaving the university. Those who complete graduate degrees have an average annual salary of more than $73,000. Those who drop out of the university earn, on average, about $44,000 a year 10 years after leaving CSUN.
Moore said a similar picture of the graduates of the other CSUs in the LA area will be available online next year, with the help of researchers at the other campuses as well as the Labor Market Information Division of California's Employment Development Department. The data for CSUN students can be found on the university's Office of Institutional Research website in the "CSUN by the Numbers" link under Alumni Earnings.
The results of the initiative will be shared through a new website, incorporated in student advising on the participating CSU campuses and featured in research papers and presentations.