$5 Million Gift from Accounting Leader Harvey Bookstein and Wife Harriet Helps CSUN Reach Business College Fundraising Goal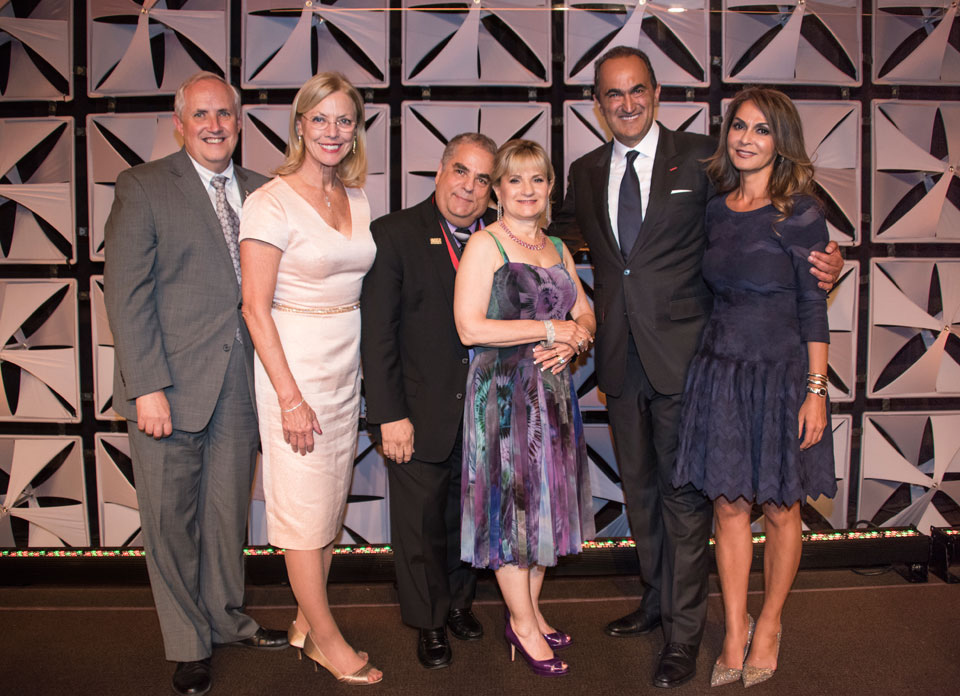 From left, Nazarian College Dean Kenneth R. Lord, CSUN President Dianne F. Harrison, Harvey Bookstein, Harriet Bookstein, David Nazarian and Angella Nazarian at the business college's 50th anniversary celebration at which the $5 million gift from the Booksteins was announced. Photo by Lee Choo.
A $5 million gift from accounting industry leader Harvey Bookstein and his wife, Harriet — both California State University, Northridge alumni and lifelong supporters of the university — has pushed CSUN over the top in a two-year campaign to raise $25 million for its college of business.
In recognition of the Booksteins' commitment to CSUN, university officials plan to ask the California State University Board of Trustees to rename Juniper Hall, which houses the David Nazarian College of Business and Economics, to Bookstein Hall in their honor.
"For years, Harvey and Harriet have invested their time, their energy and their resources to benefit CSUN's business students," CSUN President Dianne F. Harrison said. "This transformative gift is a legacy to their dedication to their alma mater and will benefit future generations of students."
Harvey Bookstein said he couldn't imagine not making the gift to CSUN.
"Every time you get near the students of CSUN and see how their eyes light up from the education they are getting, I don't see how you couldn't do something for the university," he said. "To see how different the students are from when they first get onto the campus to when they graduate — to see how much they have learned and grown — it's amazing. CSUN makes such a difference in not only the students' lives, but in the lives of the people those students interact with and in the community."
Harriet Bookstein echoed her husband's sentiments.
"Harvey and I feel so fortunate that we are able to touch so many lives in a positive way," she said. Calling CSUN a bright shining jewel, she went on to exclaim, "How wonderful is it to accomplish this in our lifetime, and to impact future generations."
The Booksteins' gift was announced by President Harrison on Sept. 22 at the Beverly Wilshire Hotel in Beverly Hills at a gala celebration marking the Nazarian College's 50th anniversary.
A portion of their gift will be used to support the Volunteer Income Tax Assistance (VITA) program. This program — which is led by Rafi Efrat, holder of the Bookstein Distinguished Chair in Accounting was created by a generous previous gift from the Booksteins — offers free tax-preparation assistance to low-income families and individuals. Their gift will also establish the Bookstein Distinguished Chair in Real Estate Endowment in the real estate program. The remaining portion of their gift will create the Bookstein Leadership Endowment to support the college's highest strategic priorities.
The fundraising campaign for CSUN's business college launched in March 2014 when entrepreneur and philanthropist David Nazarian, founder and CEO of Nimes Capital, donated $10 million of his own money and pledged to help raise an additional $15 million for the college. The Booksteins' $5 million gift helped the university reach the fundraising goal in only two years.
"Harvey and Harriet Bookstein have repeatedly shown their commitment to a bright future for CSUN students," said Kenneth R. Lord, dean of the Nazarian College. "Just as their past contributions have propelled CSUN to the ranks of the nation's leading programs in taxation, this amazing gift will take the Nazarian College's already acclaimed VITA program to new heights at the same time that it supports new and market-relevant initiatives in real estate and other strategic areas. I could not be more thrilled that the college's new home will now bear the name of Bookstein Hall, a fitting tribute to two individuals who for years have stood among our most generous and engaged supporters."
Robert Gunsalus, CSUN's vice president for advancement and president of the CSUN Foundation, agreed.
"Harvey and Harriet's support is at the crest of a wave of major investments in CSUN," Gunsalus said. "They, along with a growing number of business and civic leaders, are seeing that through CSUN they can have a powerful, uplifting impact on the people and prosperity of Los Angeles and beyond."
Harvey Bookstein, a certified public accountant who graduated from CSUN in 1970 with a bachelor's degree in business administration, has nearly 50 years of public accounting experience and specializes in providing tax, accounting and business consulting services to clients in the real estate and high-net-worth practice areas. He is recognized as one of California's most respected certified public accountants. Bookstein is a senior partner of prestigious national CPA firm Armanino LLP, after merging his firm that he co-founded in 1975 — RBZ — last year. Armanino is California's largest independent accounting and business consulting firm. He also specializes in financial issues relating to children, divorce and the development of strategies to pass family wealth from one generation to the next — including a method he developed and registered a trademark for called "Therapeutic Accounting®." Bookstein authored a book, "Wake-Up Call," where he describes his life experiences that led to the creation of "Therapeutic Accounting®."
Harriet Bookstein is a successful business manager who works with high-profile leaders in the business and entertainment industries. Her clients range from performers to executives.
The Booksteins have been longtime supporters of CSUN and its David Nazarian College of Business and Economics. Several of the Booksteins' children are also alumni of CSUN.
Over the years, Harvey Bookstein has guest lectured in dozens of classes and mentored hundreds of CSUN students. In 2005, he and his wife donated $1 million for the creation of the Harvey and Harriet Bookstein Chair in Taxation and the Bookstein Institute for Higher Education in Taxation. Among other things, the institute assists about 130 low-income taxpayers each year to resolve their disputes with the IRS — free of charge.
Active on several CSUN boards, Bookstein received CSUN's prestigious Distinguished Alumni Award in 2009. He also received the Dorothea "Granny" Heitz Award for Outstanding Volunteer Leadership. Named in honor of the woman whose loyalty and school spirit made her a legendary figure on campus, the award is presented annually to alumni or friends who serve the university as outstanding volunteer role models and leaders. Earlier this year, Bookstein received an honorary Doctor of Humane Letters from the university, in recognition of his successful career and legacy at CSUN.