David Nazarian College of Business and Economics Receives Small Business Honors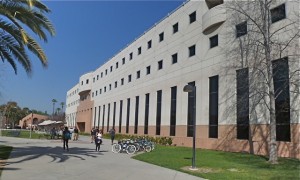 California State University, Northridge's Small Business Institute graduate and undergraduate teams last month walked away with first-place prizes from the national Small Business Institute's (SBI) Project of the Year competition for work done in the 2014 school year.
"We have had teams place in the 'top three' of the Small Business Institute's Project of the Year competition since the 2011 SBI conference," said Deborah Cours, director of graduate programs in CSUN's
 David Nazarian College of Business and Economics.
"We believe in giving the students hands-on experience," she said. "Our MBA students do small business consulting projects, often for small businesses and start-up, in lieu of a thesis or comprehensive exam. It's a win-win for both the students and the community. Most of our new clients are gained by word of mouth because the clients are so happy with the results, they tell others."
The institute began in 1972 as a cooperative pilot venture between the U.S. Small Business Administration (SBA) and Texas Tech University. After the pilot year, approximately 20 leading universities and colleges joined in the innovative faculty-guided, student-based consulting program in 1973. In 1995, the SBA quit funding these projects; however CSUN's small Business Institute thrives on donations provided mostly by satisfied former clients.
Under the guidance of a faculty member, student projects focus on critical aspects of business development such as: market feasibility/business plans, marketing plans, new venture startups and new product introduction plans.
"Students enter the workforce more confident," said Cours. "They say things like, 'I didn't just take a course, I've actually done this work.' Their knowledge goes beyond just what they've read in a book, it's practical experience that allows them to hit the ground running."
The MBA team won first place in Graduate Business Plan/Feasibility Study. The team consisted of students Corey Ballantoni, Linh Hal, Mike Lloyd, Kevin Sedaghat and Manpreet Singh, and was advised by Ali Behnezhad, professor and department chair of systems and operations management. This project was completed for client Ladan Behnia of ABC Nationwide, LLC.
The undergraduate team won first place for its comprehensive business plan for client Chella. Supervised by Professor Joy Griffin, the students included Briana Juarez, Jeremy Abraham, Melody Saadian, Mel Layesen and Shahzeen Bhurgri.
The annual conference of the national Small Business Institute, held in February not only awarded the two CSUN teams with first-place awards, but also recognized CSUN's institute with a Showcase Award, identifying the program and its director for their consistent high-quality, professional work.
"It was a very exciting week," noted Cours. "Our students have, year after year, been continually building our reputation and producing quality work. We are very honored to receive the Showcase award was very rewarding."
Cours said the program "is a testament to the work of our recent award-winning students and their faculty advisers, including Kristen Walker, Melanie Williams, Lois Shelton and Joy Griffin."
Cours was elected to the National SBI board of directors and joins Joy Griffin as a vice president.
For more information on SBI visit their website at http://www.smallbusinessinstitute.org/, and to learn more, or to be a client for the CSUN MBA students, please complete an application online at: http://www.csun.edu/busgrad/mba-consulting-project