Overlapping Relationship Between Race, Gender, Class Explored in CSUN Student Exposition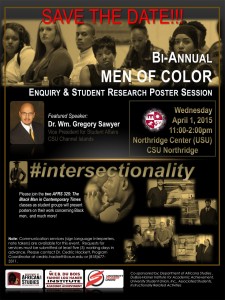 California State University, Northridge's Department of Africana Studies will showcase student work pertaining to contemporary Black male identity at its spring 2015 Men of Color student-research poster session next week.
The multi-platform event features musical performances, spoken-word pieces, guest lecturers and will culminate with a presentation of student posters addressing the topic of intersectionality.
"Intersectionality, according to Tyrone Howard, is the 'interaction of multiple identities and varied experiences of exclusion and subordination,'" explained assistant professor of Africana studies and Men of Color organizer Cedric Hackett. "Student posters range from topics such as values, fashion, fatherhood, interracial dating etc., as it relates to black men or boys."
Men of Color, a bi-annual event, began in 2013 and takes place each fall and spring semester. Created as a field exercise for Africana studies students, the event allows participants to engage in the campus community through dialogue and appraisal, fostering a high-impact environment that both strengthens retention and augments social engagement, said Hackett.
This semester's assembly will be held on Wednesday, April 1, from 11 a.m. to 2 p.m. in the University Student Union's Northridge Center.
Special guest speaker, William Gregory Sawyer, vice president for student affairs at CSU Channel Islands, will feature a discussion on the complex topic of intersectionality.
"[Sawyer] will speak about the theme, intersectionality. He is a source of encouragement for campus engagement for our CSUN community," said Hackett.
CSUN associate professor of Africana studies Anthony Ratcliff also will discuss the Black Lives Matter movement.
The event is free and open to the public. Communication services are available upon request and must be submitted at least five working days in advance of event.
For more information about this event, please contact Cedric Hackett, program coordinator, at cedric.hackett@csun.edu or call (818) 677-3311.
To learn more about the CSUN Department of Africana Studies and related programs please visit http://www.csun.edu/social-behavioral-sciences/africana-studies.