Pick My Solar, an LACI@CSUN Company, Captures Outstanding Small Business Award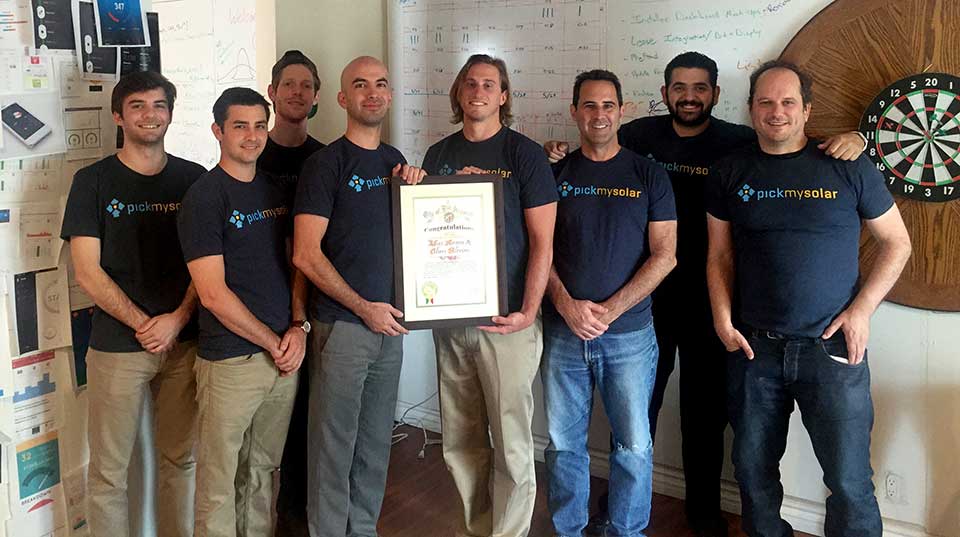 CSUN alumnus Max Aram (center) and his Pick My Solar team. Photo by Max Aram[/caption]One of the fastest-growing industries in the world is the solar energy field. It's fitting, then, that the CSUN-based, Los Angeles Cleantech Incubator (LACI) firm Pick My Solar would reach such great heights in its relatively short lifespan. It already has picked up a prestigious grant from the Department of Energy, and now it's been named this year's Outstanding Small Business by the U.S. Small Business Administration's Small Business Development Center.
"We are very honored to be recognized for the success we have enjoyed in bringing transparency and fairness to the solar market in Southern California," said Max Aram, Pick My Solar's CEO and a CSUN alumnus. "As we expand the Homeowner's Advocate brand nationwide, we look to continue to leverage the tremendous resources that the City of Los Angeles has offered us."
The LACI@CSUN team also has had an influencing effect on the startup. From its beginning, Pick My Solar has taken advantage of the incubator's resources to craft its product and opportunities for fundraising. LACI@CSUN has created a venue to help startups from CSUN and throughout the San Fernando Valley discover opportunities, create enterprises and connect with a global network of businesses and investors.
"LACI has supported us all the way since the inception up until now," Aram said. "They gave us the credibility and advice when we needed, and connected us to amazing people who helped Pick My Solar get to the place we are today."