What Would Cesar Do? 10th Annual Service Fair Promotes Community Service
Cesar Chavez Day is a fairly recent national observance, but California State University, Northridge has been celebrating the life and service of the late American labor leader and Latino civil rights activist for much longer. Every year for the past decade, CSUN's volunteer program, Unified We Serve, has hosted the Cesar Chavez Service Fair to promote social action and service among members of the CSUN community.
The 10th Annual Cesar Chavez Service Fair will be held from 10 a.m. to 2 p.m. on Wednesday, April 3, on the Campus Store Lawn. At the service fair, CSUN students, faculty and staff will be able to connect with and learn about local nonprofit organizations that continue Chavez's legacy of community service. The event also will feature free food and live mariachi music. (Campus will be closed for Cesar Chavez Day – Observed on April 1, the day after his birthday, March 31, which falls on a Sunday this year.)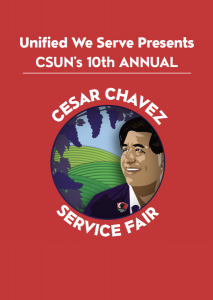 To help more students and staff discover the benefits of volunteerism and community service, Unified We Serve has invited nonprofits from the San Fernando Valley area to participate in the fair, where they will offer information about their organizations' objectives and opportunities for internships and volunteering.
More than 25 organizations are scheduled to participate, including Southern California Blood Services Region of the American Red Cross, Dignity Health, Los Angeles Regional Food Bank, California Science Center, CalFresh and CSUN's MenCARE Peer Education Program.
"The event is a way to put service at the forefront of engagement," said Maria Elizondo, coordinator of volunteer and community involvement at CSUN's Matador Involvement Center.
"It's an avenue for students to get to know the community outside the university through service," Elizondo said. "They can discover a new way to engage and maybe even find a new passion — they get to try something they've always wanted to explore through volunteering because there's no risk involved."
Unified We Serve, operating under the Matador Involvement Center, gives CSUN students opportunities to volunteer in activities and events dedicated to serving the local community. For more information about the program and how to participate, visit https://www.csun.edu/mic/volunteer.