Finals are Almost Here: Here's Where to Study Late, Grab Some Freebies and Take a Break
As the semester comes to an end and final exams approach, it's time to plan those late-night study sessions, early morning fuel-ups — and stop to collect a few crucial freebies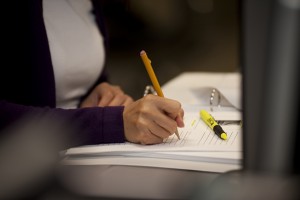 (including coffee and snacks). We've got you covered on where to find all of this and more on campus, plus some tips on ways to relax and take a break in these last weeks of the semester!
Studying
University Library 
The University Library has extended hours for finals, May 9-18, from 7 a.m. to 2:45 a.m., and Friday, May 19, from 7 a.m. to 9:45 p.m. (see below for special activities!)
USU Sports Pub
​​The Pub is open for studying: Monday through Thursday, 7 a.m. to 10 p.m.; Friday, 7 a.m. to 7 p.m; and Saturday and Sunday, 8 a.m. to 5 p.m.
SMART Lab 
Need some help? Check out the SMART Lab in the University Library. Tutoring is offered in subjects such as accounting, ASL and chemistry. Students can make weekday appointments, in person and online.
Snacks and Freebies
Crunch Time: through May 18
Crunch Time is here! Free exam supplies (including Scantrons, pencils and exam books) and plenty of tasty treats are handed out during this perennial event. Crunch Time happens daily in the USU Plaza Del Sol, May 8-11 from 11 a.m. to 2 p.m. and May 15-18 from 9 to 11 a.m.
Relaxing and De-Stressing
University Library
The library will have a number of activities to help you prepare and/or de-stress for exams, like building your own Finals Survival Kit, and arts and crafts. Check out the University Library web page for days and times.
Oasis Wellness Center at the USU
Yoga, guided meditation, nap pods … Take advantage of the Oasis' resources (exclusive for students!) to help you stay focused and calm during finals. Did we mention the massage chairs, the spa water and the air conditioning? The Oasis Wellness Center is open Monday through Thursday, 9 a.m. to 8 p.m., and Friday, 9 a.m. to 4 p.m.
Trauma-Informed Yoga, in collaboration with Strength United: May 16
For a great de-stressor during finals, take a yoga class at 10 a.m. on Tuesday, May 16, in the Oasis Wellness Center. The class will focus on the impact that trauma has on the body and will incorporate breath work and slow movements.
Guided Meditation in the Oasis Labyrinth: through May 19
The Oasis Wellness Center offers a guided meditation to help you unwind. Students can try out an audio meditation and walk around the spiral labyrinth in the garden.
"Let's Talk" – in collaboration with University Counseling Services
Counselors will be available to talk with students on Fridays in May at 2 p.m. and 2:30 p.m. at the Oasis.
Take a nap, earn a reward! ​The Oasis is giving rewards like cozy blankets and sleep masks to those who take a nap in the Oasis nap pods, now through May 26.