Asian House Renamed for Professor Glenn Omatsu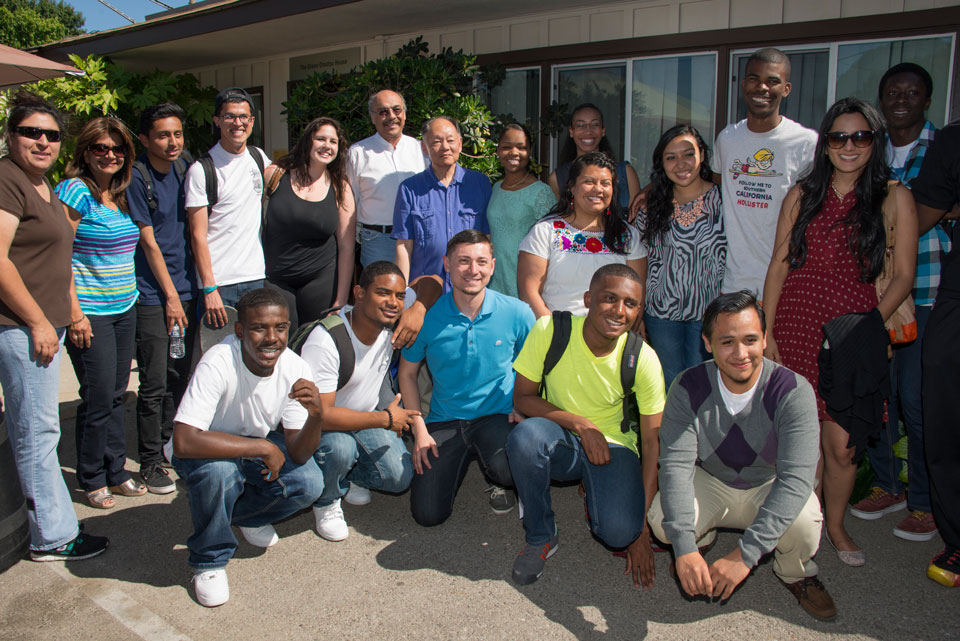 By Olivia Herstein
California State University, Northridge's Department of Asian American Studies honored longtime professor and mentor Glenn Omatsu by renaming the campus Asian House in his honor.
Hundreds of students, colleagues and community members braved the heat and fierce Santa Ana winds on April 29 to cheer the professor and dedication of the Glenn Omatsu House. The diversity of student groups and ethnic studies scholars who turned out — from Chicana/o studies to Asian American fraternity brothers — testified to the esteem and reverence members of the CSUN community hold for Omatsu.
"He is a surrogate father figure to many of us," said Asian American studies professor Rashitta Brown-Elize, a former Educational Opportunities Program (EOP) student and now mentor in the program. "Two years ago, I got married and Professor Omatsu walked me down the aisle. I couldn't think of anyone else I would ask. He gave me hope that anything is possible."
As audience members teared up, Brown-Elize told her story of Omatsu's mentorship: "In the beginning (as a sophomore), I was resistant to his mentoring. … He was always telling me things I need to work on. I didn't realize he saw potential in me that I didn't see in myself."
She earned her bachelor's and master's degrees from CSUN and went on to earn a doctorate from the University of Southern California.
"I never thought I would be teaching here at CSUN, and it's because of (Omatsu's) mentoring" said Brown-Elize, who joined the faculty in 2012. "I had a desire to give back to students the way he gave to me. And he continues to mentor me. Last year was my first year teaching at CSUN, and he would meet with me every morning at 6:30 a.m. That's commitment."
Now his colleague, Brown-Elize noted that she never gave Omatsu a picture of him walking her down the aisle. She rectified that at the April 29 ceremony, presenting her mentor — who got misty along with his students — with a framed wedding photo.
"Professor Omatsu, I can never thank you enough — and mine is only one story of the students he's mentored," she said.
Omatsu himself was the most succinct in his comments, and he was clearly moved by the large crowd and stories shared.
"I want to especially thank the students and community members who are here," he said. "As I said the other night (in a public lecture), Asian American studies and ethnic studies belong to you.
"I'm not rich monetarily, but I'm rich in a lot of other ways," Omatsu said. "Think of me more as a non-traditional leader. Let's think about naming buildings around campus after more people like me — non-traditional leaders."
The dedication ceremony included a ritual to honor ancestors by Shinto priest the Rev. Alfred Tsuyuki, who petitioned for a "pure and peaceful state of mind, banishing negativity" on behalf of those assembled.
Tsuyuki, dressed in white robes and black hat, led dignitaries in a ceremony symbolizing kokoro, the Japanese concept of a pure heart. He invited Omatsu, Provost Harry Hellenbrand, College of Humanities Dean Elizabeth Say, Asian American studies chair Gina Masequesmay and others to place on a small table a green branch symbolizing "the aliveness and beauty" of the occasion, wrapped in white paper symbolizing purity.
"As we recognize the simple things in life, we are more grateful for all of the opportunities in life," Tsuyuki said.
The newly named Glenn Omatsu House is located on Halsted Avenue, just east of Reseda Boulevard, at the northwest corner of the campus. The house shares space with the CSUN Women's Research and Resource Center. For more information, visit http://www.csun.edu/AsianAmericanStudies/