Accounting and Finance Students Glimpse their Future at "Meet the Firms"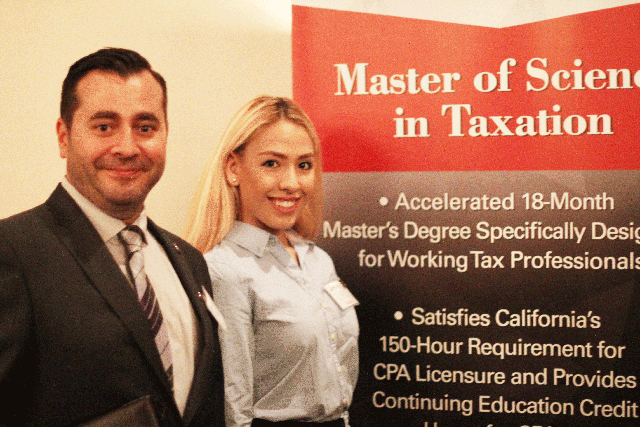 Every semester, student leaders from campus clubs that focus on accounting, finance, management and information systems join forces at California State University, Northridge to organize, plan and fund Meet the Firms, a career fair that prepares CSUN accounting and information systems students for their prospective careers.
This fall, approximately 900 people participated in the Meet the Firms event. Three hundred and twenty professionals from 67 firms in public accounting, information systems, private industry and government agencies, as well as 20 faculty members and CSUN staff administrators, helped give 560 CSUN students the opportunity to network and seek potential job placements. The event took place at the Odyssey Restaurant in Granada Hills.
"The number of firms that want to attend the event each semester just keeps growing," said Luella Jones, director of the Ernst & Young Center for Careers at CSUN.
CSUN accounting students attended the event dressed in their professional best, and they were armed with resumes and thoughtful questions. The Ernst & Young Center for Careers, established by the company in 2007 in CSUN's Department of Accounting and Information Systems, helped prepare participants by providing assistance in resume and cover letter writing, coaching on interviewing skills and counseling in career path options.
"I felt very prepared for Meet the Firms, because I had made sure everything I needed to have done was done before the date," said sophomore accounting student Justice Rankins. "That includes making sure my suit was ironed and fitted, attending resume workshops, and meeting with professionals before the event."
While students are engaging with the firms, they are also "developing relationships with professionals and recruiters that are looking to hire interns and full-time employees," Jones said. "Developing relationships is vital to successful recruiting for most of our students."
"I met some professionals that I will most definitely stay in contact with," said Rankins. "One of the professionals I met from Ernst & Young is actually my mentor."
Students who take advantage of the opportunities provided to them by the Center for Careers and the student clubs have a very good chance of being offered a full-time position before graduating from CSUN, Jones said.
"This was my third attendance at a Meet The Firms event," said senior accounting student Levon Gevorgyan. "This helped me plan my time and target firms that I was interested in. In fact, I got an invitation for an in-house interview at the event, which resulted in a full-time job offer at JLK Rosenberger as an audit associate."
Sponsoring clubs for Meet the Firms included the student Accounting Association, Beta Alpha Psi, Association of Latino Professionals in Finance and Accounting, and Management Information Systems Association.
Jones noted that many students in CSUN's accounting and information systems programs are high academic achievers, but they still carve out time for involvement in student clubs and volunteer work.
"Our students tend to be highly focused academically and work at least 20 hours per week, but many work full time and are involved in student club leadership, such as the Volunteer Income Tax Assistance program or the Bookstein Tax Clinic," Jones said. The average GPA of students in the first intermediate accounting class this semester is 3.5, she said. Many of the students are in the Business Honors academic program, requiring a minimum 3.5 GPA.
"The information systems students tend to be quite entrepreneurial," Jones added, "which is what makes them a great hire for firms and organizations that are growing and developing new technologies."