Cesar Chavez Day: A Day of Service
Friday, March 31 is Cesar Chavez Day — a state holiday in California to honor the late labor leader and human rights activist's work on behalf of farm workers.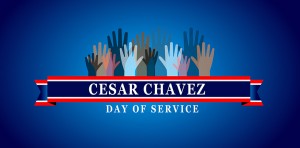 The campus will be closed on March 31, but in a longstanding Matador tradition, CSUN will celebrate a "Day of Service" the following week with a special fair that introduces nonprofit community organizations and campus groups to Matadors interested in volunteering.
This year, the 14th Annual Cesar Chavez Service Fair is scheduled to take place from 11 a.m. to 2 p.m. on Tuesday, April 4, in the Sierra Quad.
CSUN Chicano/a Studies professor Everto Ruiz is part of a volunteer organization that has organized a march in honor of Chavez since his death in 1993. On March 31 from 11 a.m. to 2 p.m., Ruiz and other members of the Cesar Chavez Commemorative Committee, San Fernando Valley will offer tours of the Cesar E. Chavez Memorial Park, at the corner of Wolfskill and Truman Streets in San Fernando. The tours are free and no registration is necessary.
Ruiz said a particular message from Chavez's work resonates with him — that farmworkers should respect themselves and be proud of what they do.
"Cesar taught farmworkers to have that kind of attitude about themselves because, with that, there are a lot of other possibilities that come about when you feel empowered," the professor said.
Ruiz noted that this message came from someone who, despite a limited education, had an enormous impact — and that's a good lesson for students.
"[Chavez's] work teaches … that they, as students, can also have empowerment. And with empowerment, we can try to better our institutions and community," Ruiz said. "We should serve the world with whatever contribution we have."
Chavez was 11 years old when his family lost their Arizona farm during the Great Depression. They moved to California and traveled up and down the state, working in orchards, fields and vineyards. Chavez left school after the eighth grade to work full time as a farmworker. In 1962, he left what's been described as his "first decent-paying job" as a community organizer, to co-found the National Farm Workers Association with Dolores Huerta and others. The organization joined forces with the Agricultural Workers Organizing Committee, led by Larry Itliong, and it is known today as the United Farm Workers of America.
For more information about CSUN's annual service fair on April 4, check out the information from the Matador Involvement Center.