CSUN Art Galleries Will Hold Largest U.S. Exhibit on Comic Book Legend Jack Kirby
California State University, Northridge is facing an apocalypse.
Bionic men, gods, mutants, talking animals and superheroes — fighting to save the world or end it all — will manifest at the CSUN Art Galleries from Aug. 24 to Oct. 10, 2015.
The exhibition "Comic Book Apocalypse: The Graphic World of Jack Kirby" will feature the works of comic book artist Jack Kirby, co-creator, designer and original artist of famous characters such as Captain America, the Avengers, the Fantastic Four, the X-Men and the Black Panther. About 100 pieces of Kirby's work will be displayed and a roughly 200-page, full-color catalog will accompany the exhibition.
English professor Charles Hatfield, curator of the exhibition, said he wanted to show Kirby's works because of their graphic power and great historical impact on American popular culture. Hatfield said when it comes to Kirby, you either "go big or don't bother at all."
"We call the show 'Comic Book Apocalypse' because when you're dealing with Kirby, nothing less than the end of everything is at stake," said Hatfield, author of the book "Hand of Fire: The Comics Art of Jack Kirby" and winner of a 2012 Will Eisner Comics Industry Award for Best Educational/Academic Work.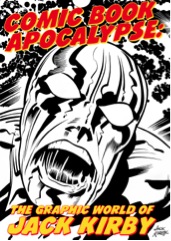 Hatfield said Kirby (1917–1994) is a "neglected giant of American comics and popular culture."
Born on New York's Lower East Side to Austrian–Jewish immigrants, he worked as a professional cartoonist from his late teens to help support his family. In the '40s and '50s, he worked in almost all of the popular comic book genres, including crime, Westerns, superheroes and romance comics, a genre he helped to start in 1947.
Kirby co-founded the Marvel Universe with comic book writer and editor Stan Lee. In the '60s, Kirby conceptualized famous characters such as Iron Man, Thor, the Hulk and the Black Panther, the first African–American comic book superhero. In the '70s, he created other influential comics for DC Comics, such as the "New Gods" and "Kamandi: The Last Boy on Earth."
Hatfield said the exhibition will be the largest gallery show in the United States to feature Kirby's art and the first held at a university.
"This kind of exhibition is long overdue," Hatfield said. "It is amazing to do this at CSUN."
As a university professor and founder of the English course, "Comics and Graphic Novels," Hatfield said the exhibit has an educational objective.
"We want to educate CSUN students and the larger community about how comics were actually made," Hatfield said. "This will bring in students to study an understudied part of our culture."
Hatfield is referring to the growing academic interest in comics as art, literature, and an influential aspect of culture, a field many are now calling "comics studies."
He is the founding president of the Comic Studies Society, the first academic professional association for scholars of comics.
The exhibition will also kick off Comics@CSUN, a collaborative and interdisciplinary initiative to increase campus interest and involvement in the study of comics.
Some of the projects include film screenings in the CSUN Armer Theatre in the fall, a guest speaker event coordinated by the Department of Asian American Studies, and a conference in spring 2016 showcasing student research on comics from across the CSU. Faculty from across campus, particularly professors of the general education path in arts, media, and culture, will be involved.
"Comics are interdisciplinary by necessity," Hatfield said. "I'm trying to stress the ways in which comics reach out to many different domains. I have colleagues across the country and in other countries who teach comics in different ways, from fields like communications, sociology and anthropology."
Hatfield said it was exciting to use his knowledge and admiration of Kirby's work to help curate Kirby's larger-than-life art.
"Kirby's either creating new worlds or threatening to destroy the one we know, or both," Hatfield said. "That's Kirby — his work is as big as you can get in a 7-by-10-inch comic."
The exhibition is supported by the Mike Curb College of Arts, Media, and Communication and the College of Humanities.
Events for "Comic Book Apocalypse" include a public reception on  Aug. 29, a gallery talk on Aug. 31 and a panel discussion for Sept. 26. Gallery hours are Monday to Saturday from noon to 4 p.m. and Thursdays from noon to 8 p.m.
For more information, visit www.csun.edu/mike-curb-arts-media-communication/art-galleries or call 818-677-2156.