CSUN Asian American Studies Department Will Celebrate its 25th Anniversary With Founders, Faculty, Students and Alumni
California State University, Northridge is home to the one of the largest, most developed and oldest Asian American studies departments in the United States.
Established in 1990, CSUN's Department of Asian American Studies has graduated a generation of scholars, community activists, business leaders, artists and teachers imbued with a critical understanding of race, ethnic history and issues affecting Asian Americans.
On Saturday, April 23, the department's students, alumni, faculty and founders will come together to celebrate its 25th anniversary. The Asian American Studies 25th Anniversary and Annual Student Awards Celebration and fundraiser will take place from 5 to 8 p.m. at the Grand Salon in the University Student Union on the east side of the campus, located at 18111 Nordhoff St. in Northridge.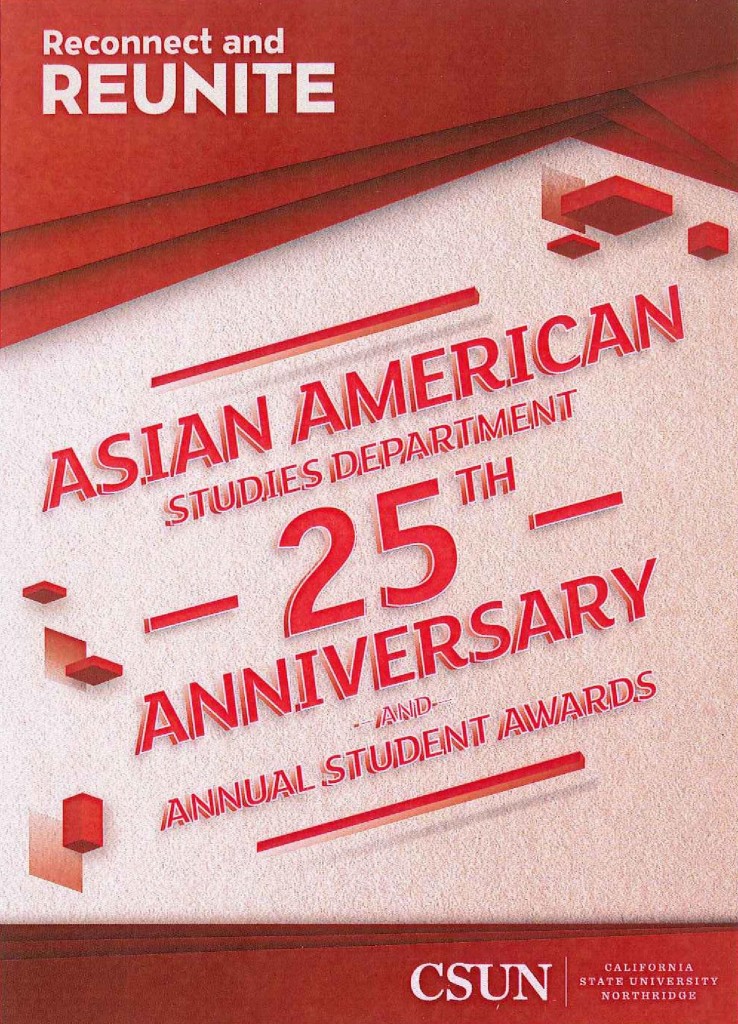 Speakers will include former CSUN Vice President for Academic Affairs Bob Suzuki, former department Chair Enrique de la Cruz, alumnus Gary Mayeda, current President's Associate and CSUN Educational Opportunity Programs Academic Liaison Glenn Omatsu, current department Chair Gina Masequesmay and professors George Uba and Laura Uba, who taught some of the first Asian American studies courses in the program.
The department was established after students and faculty authored a position paper on the need for Asian American studies and organized a successful Asian Pacific American Cultural Awareness Week in 1989 to demonstrate there was a campus interest in learning about Asian-Americans.
Suzuki, who served as vice president for academic affairs from 1985 to 1991, said he supported the creation of the department based on his experience teaching Asian American studies at the University of Massachusetts.
"It was the first time [my students] realized Asian-Americans played a very important role in this country," Suzuki said. "It was almost scary, because for the first time they began to realize they were just as American as any other student at that university. That's why I supported the effort [to establish Asian American studies at CSUN]."
Kenyon Chan, who served as the department's founding chair from 1990 to 1997 and recently retired as the chancellor of the University of Washington Bothell, said he and faculty quickly worked to develop a major and minor, and put Asian American studies courses on the CSUN map.
"We fought hard to make sure the AAS curriculum became a central part of the CSUN curriculum, including part of every category of general education," Chan said. "We also demonstrated how vital it is for students to understand the historical and contemporary impact of Asian and Pacific Islander communities in the United States and learn an alternative theoretical view of the world."
De la Cruz, who served as chair from 2000 to 2003, said there were only two full-time and two part-time faculty in the department when he started.
"It was a juggling and balancing act to be able to offer the full complement of courses that would enable our majors to graduate on time," de la Cruz said. "During my tenure, we developed ethnic subgroup experience courses, research methods and Asian-Americans and the Law as an upper division general education class. We streamlined the courses to really develop the major."
He said that having Asian American studies is vital to maintaining a fair account of American history and to keep Asian-Americans relevant in historical dialogue.
"Even today, there is a continuing struggle to ensure that minority communities, in particular Asian-Americans, are acknowledged for their roles in building American society," de la Cruz said. "If we are not in the curriculum, it's like we don't exist."
Suzuki understands from personal experience what it is like to have his history as an Asian-American kept off the books and out of public discourse. He was just 6 years old when he and his family were interned along with more than 110,000 Japanese-Americans during World War II.
While an undergraduate at UC Berkeley, Suzuki took a speech course and decided to write a speech about his education in the internment camp.
"I started doing research on it and the more I read about the internment, the angrier I got — what a gross injustice it was," Suzuki said. "When I gave the speech to the class, it was pretty hard hitting. After I was finished, the teaching assistant asked the class if they had any questions, and I was received with shocked silence. He then asked them if they knew this had even happened. Only one student in the class said he knew, but it was another Japanese-American who had spent time in the camp himself.
"That was 1955. It blew my mind that in this society, even those whose friends were taken away in the camps could be ignorant of the internment. I think that experience was a major factor influencing my interest in and support for Asian American Studies."
Omatsu said teaching students about the kinds of experiences of Asian-Americans like Suzuki is crucial to understanding the present and preventing injustice.
"At this particular time, with all the attacks coming down on immigrants and on Muslim-Americans especially, we need to understand that most of these attacks are not new," Omatsu said. "Anyone who takes a basic Asian American studies course learns about the Chinese Exclusion Act, the 1924 immigration act excluding Asian-American immigration, and the Japanese internment. When Donald Trump comes down saying he wants to temporarily ban all Muslims from coming into the United States, people should know that's been done before to the Chinese and Asian-Americans and that it's wrong, but not a lot of people do. When politicians call for patrols of Muslim areas or want Muslims to inform other Muslims of their activities, we need to remember all of those things happened to the Japanese-Americans."
Masequesmay said Asian American studies is an empowering experience for many students.
"It provides more self-definition, and links you to a history of struggle and resistance — not just to Asian-Americans, but to other ethnic groups as well, those who have been historically disadvantaged," Masequesmay said. "You see the struggles of peoples and it gives you a sense of connection and power.
"It's an inspiring, wonderful feeling to know you are not alone in struggling for justice," she continued. "It's a wonderful feeling to be part of something larger than yourself. We must focus on that sense of inter-being to envision a society that benefits all of us and not just some of us, a justice that is restorative and not destructive."
For more information on the 25th anniversary celebration and fundraiser, or to donate to the department, email gina.masequesmay@csun.edu or call the Department of Asian American Studies at (818) 677-4966.