CSUN Athletics and the Library Partner: Read to Lead Initiative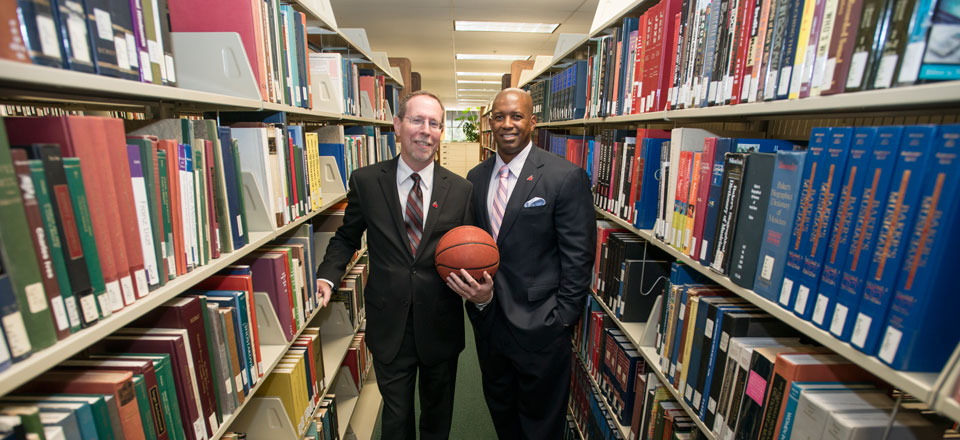 In a new partnership at California State University, Northridge, Matador Athletics and the Delmar T. Oviatt Library are joining forces to launch the Read to Lead Initiative.
Brandon E. Martin, Ed.D., CSUN's director of intercollegiate athletics, and Mark Stover, Ph.D., dean of the Oviatt Library, announced on Monday, Oct. 6, the launch of the program, which will run from November through the end of the school year and will highlight 20 leaders and their favorite books on leadership.
"The Oviatt Library is the soul of our university and connects with the educational and intellectual values that are true to CSUN," Martin said. "This new initiative will undoubtedly empower our current and future leaders to make CSUN shine."
Martin and Stover are collaborating to identify the 20 leaders that will be featured from CSUN faculty, staff, students and alumni. Each leader will be asked to select a book on leadership that has played a vital role in his or her personal life and professional career development. Confirmed participants include CSUN President Dianne F. Harrison; baseball head coach Greg Moore; Michael Spagna, dean of the Michael D. Eisner College of Education; and Octavio Cortes, chair of athletics for Associated Students.
"Dr. Martin came to me to convey his vision of this initiative, which I found to be compelling," Stover said. "It is a powerful message that we are sending to the CSUN community. Books and reading can be an influential force in personal and career development, in building relationships and developing leadership qualities and opportunities."
Participants will be featured in a library exhibit and take part in panel discussions during the fall and spring semesters to examine their chosen book and leadership philosophy.
"The campus community will connect with the models of leaders that we have on campus who have been influenced by books that communicate either explicitly or implicitly the values that it takes to be a leader on the job, with family and in life itself," Stover said.
Students, faculty, staff, alumni and community members can join the Read to Lead Initiative by learning about and reading each of the featured books when the exhibit opens in the library next month.