CSUN Awarded for Innovative Work on Mobile Curricular App Development for STEM Teaching and Learning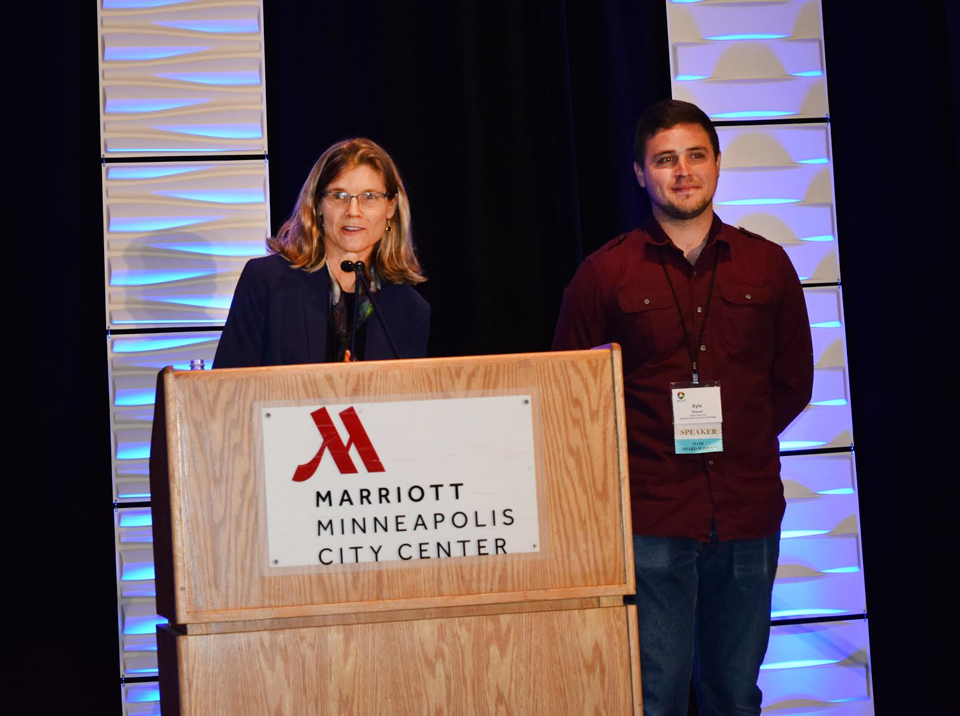 CSUN Associate Vice President of Academic Technology Deone Zell and Kyle Shaver, alumnus and now staff member who worked on the apps, accept the WOW award in Minneapolis on Oct. 13. Photo courtesy WCET.
California State University, Northridge was recognized for its innovation in education technology by the WICHE Consortium of Educational Technology (WCET), winning the Outstanding Work (WOW) Award on Oct. 13 in Minneapolis. CSUN was awarded for its work on mobile curricular app development to enhance STEM teaching and learning.
WCET is the educational technology arm of WICHE, the Western Interstate Commission on Higher Education, an organization that aims to expand educational access and excellence for the Western states.
The award recognized the innovative work conducted by Information Technology and CSUN faculty to bring mobile app development opportunities to students and to help faculty create curricular apps for their classes. Apps accompanied faculty-authored e-Texts as a strategy developed by Information Technology and Academic Affairs to create high-quality, low-cost digital content to students in myCSUNtablet classes.
The apps were a result of the 2015 and 2016 AppJam competitions held at CSUN, where students from all disciplines were challenged to build mobile apps to improve student life. Students received prizes and opportunities to work with start-up firms LACI@CSUN and Bixel.
Apps developed by students for AppJam were submitted via CSUN's ePortfolio network called Portfolium, which also allowed students to showcase their accomplishments to potential employers.
One app, Matador Patrol, was adapted by CSUN Information Technology and deployed by the CSUN Police Department to help students obtain safety escorts across campus using their mobile phones. Matador Patrol will become available to all faculty, staff and students through the CSUN App earlier this month.
Students who demonstrated mobile app development skills had the opportunity to be hired by Information Technology to join a team including faculty, instructional designers from the Faculty Technology Center, and software programmers from IT to create mobile apps that enhance curriculum. The work was funded by Campus Quality Fees.
"This two-fold strategy enabled students to gain valuable mobile app development experience, and faculty to author custom apps for their classes. This strategy is part of Information Technology's ongoing goal to help leverage the potential of emerging technologies to benefit both faculty and students." said Deone Zell, Associate Vice President of Academic Technology.
Four apps have been developed thus far, and are available for download in the iTunes App Store. Tree of Life, authored by Jeannie Robertson, helps students understand the evolutionary relationship among all living organisms. Elite Gene Team, authored by Cindy Malone, enables students to demonstrate their understanding of genetic transfer and to earn points to reach higher levels. Nematode Classification, authored by Ray Hong, helps students understand the relationships between tiny worms and the beetles that serve as their hosts. Biostats Buddy, authored by Kaitlin Bahr, help students learn how to calculate common procedures used in biostatistics.
A fifth app under development, authored by Mariano Loza Coll, will enable individuals to model the evolution of networks, whether in the context of genetic cascading or population dynamics.
IT continues to work with faculty to develop novel approaches to teaching and learning. In 2016, IT partnered with Jake Enfield, who heads the Multimedia Option in the CSUN College of Arts, Media & Communication's Department of Cinema & Television Arts, and the Tseng College of Extended Learning, to explore the development and application of virtual and augmented reality to teaching and learning. In October 2016, this team launched VARx, a year-long exploration with faculty that will culminate in VARJam, a competition for students to showcase their innovation in virtual and augmented reality.