CSUN Breaks Ground on Cutting-Edge Sustainability Center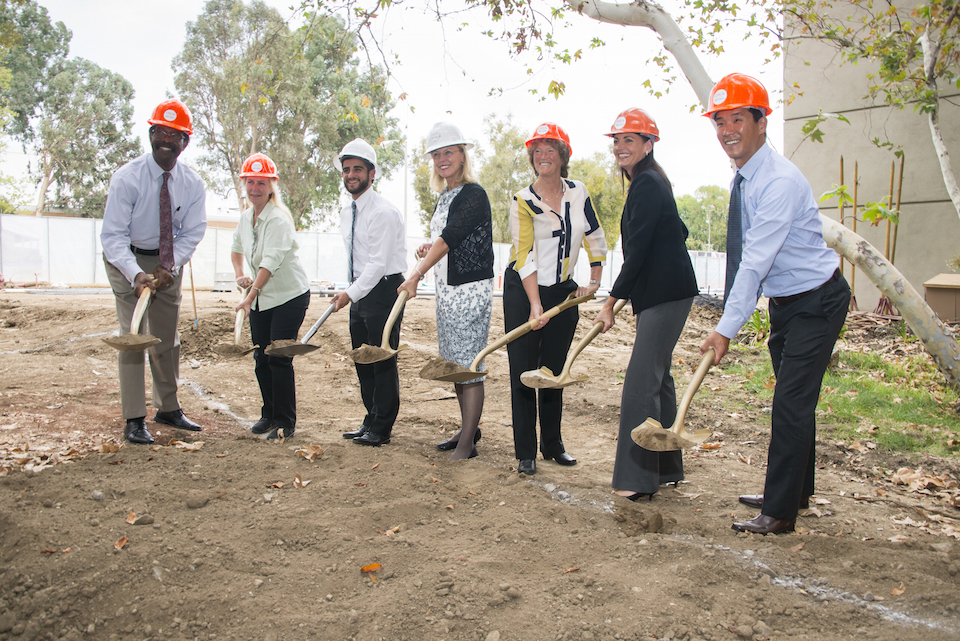 CSUN officials break ground on the new Associated Students Sustainability Center. Photo by David Hawkins.
California State University, Northridge officials broke ground on a new Associated Students Sustainability Center on Sept. 19. Campus leadership, the Institute for Sustainability, Associated Students (AS), the center's partners in architecture, construction and consulting, as well as other CSUN stakeholders celebrated at the AS Recycling Yard next to the University Student Union, where the center will be built.
The Center will be a multi-functional space serving as an expanded collections station for campus recyclables, the administrative hub of AS' sustainability programs and services, and as the administrative offices of the Institute for Sustainability.
"What we really hope is that it will become the focal point for the university community for educational programs and services related to the environment and sustainability," said David Crandall, general manager of Associated Students.
At 8,000 square feet and a cost of approximately $4.7 million, the building will be a model of sustainable technology and practices.
The administrative area will house seminar rooms, offices and workspaces, a pantry, restrooms, showers, and a 5,000-square-foot covered yard space. The yard's roof will include approximately 100 solar panels that will provide enough energy to keep the administrative space completely off the grid, supporting CSUN's initiative to become a carbon-neutral campus.
Solar hot water produced on the roof will provide hot water for the center's sinks and showers, and used water will feed into a "gray water" collection tank that will irrigate drought-tolerant landscaping around the building. The air conditioning system will be connected to the building's windows, maximizing natural ventilation to save power.
The center's restrooms will include self-contained composting toilets, which can convert waste into clean compost and limit water use to as little as .2 liters per flush.
Architectural firm Gensler, construction firm Gilbane and sustainability consultants from Glumac created the center's innovative design and engineering.
CSUN is a national leader in implementing and promoting sustainable practices, said CSUN President Dianne F. Harrison, who chairs the Second Nature Climate Leadership Steering Committee and made sustainability one of her top priorities when she arrived at the university in 2012.
The university has been awarded a gold rating by the Association for the Advancement of Sustainability in Higher Education (AASHE) in its Sustainability Tracking, Assessment and Rating System (STARS), the highest rating in the CSU. The Student Recreation Center and Valley Performing Arts Center were awarded LEED Gold awards from the U.S. Green Building Council, and the campus is seeking Gold status for the new Extended University Commons building.
CSUN achieved a 22 percent reduction in water use — equivalent to 55 million gallons — in 2015, surpassing the CSU water reduction goal of 20 percent by 2020.
"The Sustainability Center that we celebrate today will play a major role in advancing our sustainability efforts on campus," Harrison said. "To Associated Students, the students and the faculty and staff who have played a role in bringing this center from a mere idea in someone's head to reality, I say thank you so much for your work in making CSUN a national leader and role model for sustainable practices and actions."
Director of the Institute for Sustainability Helen Cox said she also appreciated the spirit of universitywide teamwork.
"This center brings all the different units of the university together in a great collaborative effort," Cox said. "It's been exciting to do something really transformative. The building is so cutting edge — it just proves you really can make net-zero [energy] happen."
AS President Sevag Alexanian expressed pride in his fellow students' hard work, turning a dream into a reality.
"We are standing here today and it goes to show that really, anything is possible," Alexanian said.