CSUN Celebrates Chinese New Year at Annual Banquet
California State University, Northridge's China Institute and Chinese Student and Scholars Association are celebrating the year of the horse with their annual Chinese New Year's banquet next month.
The celebration will take place on Saturday, March 9, from 5:30 to 8:30 p.m. at the Northridge Center in the University Student Union. There will be games, raffles and food. The raffle prizes will be related to the Chinese culture and its traditions. The event is open to faculty, staff, students, members of the institute and the community. The banquet fee is $60 for two. Students can get a discount rate by contacting the Chinese Students and Scholars Association President Xiaoqi Bu at xiaoqi.bu.926@my.csun.edu.
The evening will include presentations and performances by CSUN faculty, students and artists, including a taekwondo demonstration from Chinese Olympic Gold Medalist Jingyu Wu, who is currently taking classes at CSUN through the Tseng College.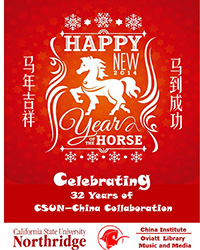 "U.S.-China relations are perhaps the most important relationship in the world today," said Justine Su, director of the China Institute. "The Chinese New Year Banquet at CSUN is the best occasion to showcase achievements in CSUN-China relations and collaboration."
The China Institute was established at CSUN in 1982, under the Office of the Vice President for Academic Affairs. Its membership numbers more than 200 hundred faculty, staff and members of the community who are committed to enhancing U.S.-China relations. Since its inception, the institute has played a major role in making the university's exchange programs with China among the best in the nation.
The institute also has partnered with the Oviatt Library in celebrating the university's 32 years of collaboration with China and the Chinese New Year with the "Chinese New Year and Culture Exhibition," on display in the Music and Media area on the second floor of the library, now through May 23. The China Institute is also hosting a Chinese Film Festival.
For more information, contact the Chinese Students and Scholars Association President Xiaoqi Bu at xiaoqi.bu.926@my.csun.edu.