CSUN Celebrates President Harrison's Investiture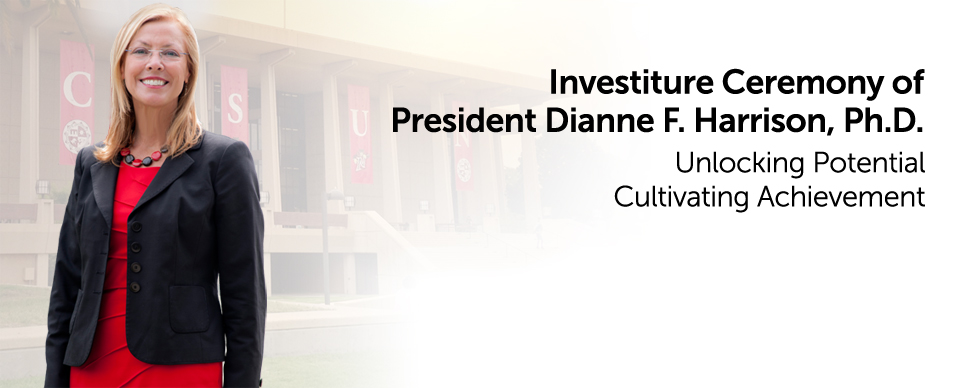 California State University, Northridge invites the community to the formal investiture of Dianne F. Harrison, Ph.D., as the fifth president of the university on Friday, May 17, at 11 a.m.
The event, which is themed "Unlocking Potential, Cultivating Achievement," will mark the formal installation of Harrison as president of Cal State Northridge. It will take place in the Valley Performing Arts Center's Great Hall. The ceremony will be followed by a reception in the center's courtyard.
"An investiture is an academic ceremony formally authorizing the president's power," said William Jennings, CSUN's interim vice president for University Advancement and chair of the committee planning the ceremony. "The event is held during a president's first year in office. This investiture for President Harrison is a truly exciting event for the entire university community."
Harrison took the helm of CSUN in June 2012. Before her appointment, she served as president of California State University, Monterey Bay, a position she had held since 2006. Prior to CSU Monterey Bay, Harrison worked at Florida State University, where she served for nearly 30 years in various capacities starting as a faculty member, then as dean of social work, associate vice president for academic affairs, dean of graduate studies and vice president for academic quality and external programs.
Since her appointment as president, Harrison has identified seven key priorities for the university: student success; a focus on employees for suc-cess; the visibility and reputation of the university; planning for a future less dependent on state funding; increased research activity and sponsored programs; sustainability; and using athletics as a tool for engagement.
Greetings are expected from trustees, faculty, staff, students and alumni. CSUN musicians will perform the processional, recessional and special music during the ceremony. The public is invited to attend. For more information and to RSVP, visit www.csun.edu/investiture.