CSUN College of Social and Behavioral Sciences to Host Bike Festival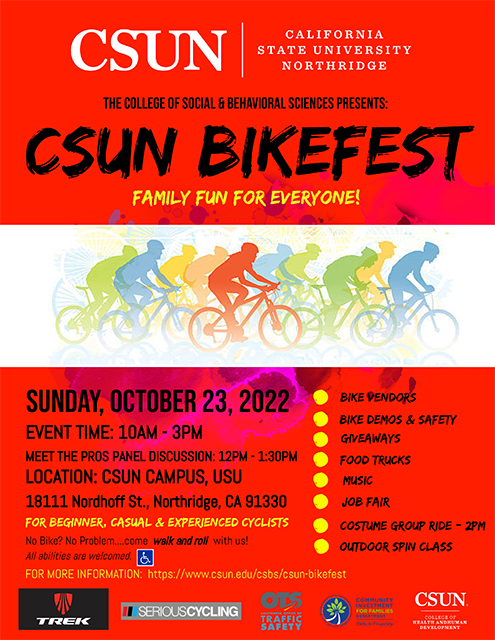 California State University, Northridge's College of Social and Behavioral Sciences is hosting the first annual BikeFest on Oct. 23. The event begins at 10 a.m. and ends at 3 p.m., with no cost to enter. BikeFest activities can be found in the University Student Union (USU) on the east side of the campus off Zelzah Avenue.
"The Bikefest is really about community," said Yan Searcy, dean of the College of Social and Behavioral Sciences, home of CSUN's Institute for Sustainability. "One aspect is about decreasing the distance between Los Angeles communities and CSUN. Another is about bringing together communities around sustainability, fitness and safety." 
 Ensuring safety is an important component of the BikeFest.  Interior campus streets will be open only to bikes and pedestrians. CSUN is providing one of the safest environments for cycling and will include teaching bike safety and skills to kids as well as to provide open streets and paths for more seasoned cyclists.
 Bike riding offers a multitude of benefits such as transportation, health and overall enjoyment. The festival will feature vendors, raffles, safety and skill demonstrations, low-cost bike repair, music, food trucks, outdoor spin classes, and a 5-mile Trek Bikes led costume group ride for riders of all levels.  More experienced riders are invited to be part of a group ride of about 25 miles long led by cycling company Serious Cycling.
 BikeFest also hosts a job fair with opportunities to explore careers in cycling and other fields.  A signature component of the BikeFest will be a panel discussion at noon with industry professionals who will be speaking about expanding diversity and inclusion and the future of cycling.
 The university encourages everyone to attend at all skill levels not just students but also families and even those without bikes who are interested in learning more. Even without a bike, there is something at BikeFest for all as walkers and hikers are welcome.  Pets are welcomed too.
 "Additionally, the Bikefest is about building cycling communities by embedding diversity and inclusion while providing economic opportunities; and I almost forgot an important element, it is about fun!" Searcy said. 
 BikeFest sponsors include cycling manufacturer and retailer Trek and the cycling apparel company Pedal Mafia.  Parking accommodations can easily be made at the F5, G4, G3 surface lots with a visible parking pass.  There will also be a bike valet to secure bikes when not riding.  More information can be found on the CSUN website at https://www.csun.edu/csbs/csun-bikefest.