CSUN EOP Celebrates Community Leaders with the 2016 Don Dorsey Excellence in Mentoring Awards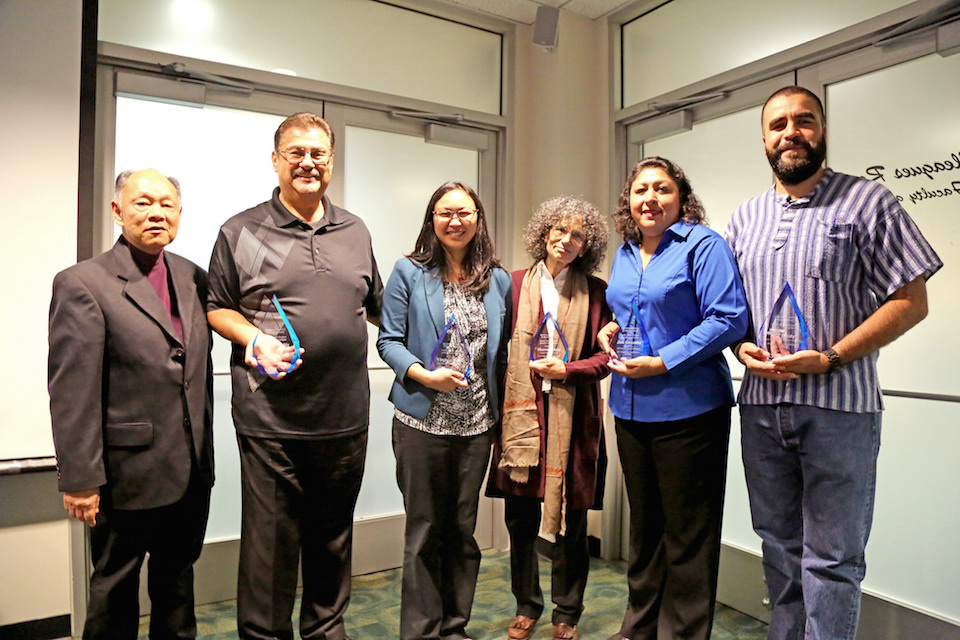 From left: EOP Faculty Mentor Program Coordinator Glenn Omatsu and Don Dorsey Excellence in Mentoring Award recipients — EOP Student Support Services Program Director Frank Muñiz, child and adolescent development professor Virginia Huynh, English and linguistics professor Sharon Klein, EOP Resilient Scholars Program Coordinator Jina Gonzalez, and Executive Director of the CSUN Mentoring to Overcome Struggles and Inspire Courage (MOSAIC) program Alex Ojeda. Photo by Thomas Macias.
At California State University, Northridge's Educational Opportunity Programs (EOP), mentoring comes with the job — literally.
Every staff member, faculty and student who works there is given the title of "mentor": The office manager is called the office manager mentor, the staff photographer is called the media arts mentor and the students are called peer mentors. Students can't leave the program without having been mentored by several, if not dozens, of individuals — some of whom have been there for decades.
EOP celebrated this rich culture of mentoring by honoring five CSUN leaders at the 2016 Don Dorsey Excellence in Mentoring Awards ceremony on Nov. 16.
The Don Dorsey awards were established in 1998 by the CSUN Faculty Mentor Program and EOP and are named after educational psychology and counseling professor Don Dorsey, who helped develop CSUN's first mentor training program. The annual awards recognize faculty and staff who have made exceptional contributions to mentoring of past and current students. This includes a holistic approach to mentoring, including academic and personal support, as well as proactive involvement in the university's commitment to the success of students from diverse backgrounds and communities.
This year's awardees are child and adolescent development professor Virginia Huynh, English and linguistics professor Sharon Klein, Director of EOP Student Support Services Program Frank Muñiz, Executive Director of the CSUN Mentoring to Overcome Struggles and Inspire Courage (MOSAIC) program Alex Ojeda, and Coordinator of EOP Resilient Scholars Program Jina Gonzalez.
Each honoree was nominated by a student, staff or faculty member — and this year's awards saw a record 27 nominations submitted for consideration.
"To be nominated is an honor in itself," said Glenn Omatsu, EOP Faculty Mentor Program Coordinator. "A lot of the time, the [nominees] are surprised when they find out that someone would take the time to say something nice about them. To be nominated is a special occasion."
The five awardees exemplified the Faculty Mentoring Program's three guiding principles — to make every moment a mentoring moment, or "mentoring on the run"; to build a community of mentors; and promote a culture of mentoring on campus. Becoming a part of a circle of mentoring and "paying it forward" was a theme that emerged throughout all of the awardees' speeches.
Each was introduced by those who submitted the nomination, and other peers or students familiar with the honorees.
Virginia Huynh
Professor Huynh was introduced by CSUN child and adolescent development professor Angie Guan.
"As a minority and first-generation college student, I dealt with discrimination issues and struggled with countless obstacles in my college years," Guan said. "However, I was lucky enough to rely on Dr. Huynh for her supporting guidance. She has always made herself available, gone the extra mile, helped me overcome some of my deepest fears."
Hyunh is a daughter of Vietnamese refugees and shared her own difficulties as a first-generation college student, and the importance of mentors in her own life.
"I applied to college all by myself and I did the FAFSA [Free Application for Federal Student Aid] all by myself," Hyunh said. "I actively sought out mentors because I was determined to make education my No. 1 priority. My mentors pushed me, they made me realize I could achieve. To me, giving back is natural, because [of what] everyone has given me. I'm nobody without my mentors."
Sharon Klein
After playing a video of Klein's students expressing their gratitude for her support, the English and linguistics professor was introduced by her colleague, CSUN English professor Cheryl Spector.
"She's inimitable — there's nobody like Sharon," Spector said. "She's besieged by friends and people who want advice. She's always available and she's never offline, you can call her anytime. She's always there for students, at her office at [late hours], asking [other faculty] for extra chairs. Her mentoring is even edible, she's got food in her office. She's just someone who nourishes everybody." 
Klein thanked her students and the community of mentors for the award.
"This all makes me feel incredible," Klein said. "I've learned from the best … Mentoring is a [liberating] process — teaching, advising, tutoring, general support can all occur. [Tonight] we celebrate together what others have done."
Alex Ojeda
Sociology and Chicana and Chicano studies double major David "Chino" Contreras introduced Ojeda, director of CSUN MOSAIC, which is a program that has sociology students mentoring at-risk youth who attend continuation high schools in the San Fernando Valley. Contreras is a student mentor in the program and talked about how Ojeda has served as a role model.
"His presence alone and organic mentorship was enough to guide this once-labeled 'at risk youth' to look beyond and paint a picture that many at-risk youth do not see," Contreras said. "Alex has a soul of a leader, creating leaders in the souls of others. Thank you for your open hands and open-door policy."
Ojeda, an alumnus who earned his bachelor's degree in liberal studies in 2009 and a master's degree in Chicana and Chicano studies in 2013, said he was once an at-risk youth who was not expected to succeed. Ojeda said he was kicked out of three different high schools, was involved in gangs and was incarcerated as a teenager. His 10th grade guidance counselor told him that he did not need to go to college, Ojeda said. Later, after realizing he needed education, he enrolled in community college and discovered his passion for learning and teaching. He transferred to CSUN with two associate's degrees at a 3.8 grade point average (GPA) and graduated with high GPAs for his two degrees from CSUN.
Ojeda said mentoring is about community activism on behalf of his community.
"Much of my mentoring efforts are directly impacted by some of the injustices we witness in the world every day," Ojeda said. "Those struggles that we experience as a community every day that jeopardize our human rights, our dignity and our willingness to continue moving forward, such as our undocumented brothers and sisters who are out there fighting for what's right."
Frank Muñiz
Muñiz, director of the EOP Student Support Services Program, was described as "one of the kindest and [most] giving people" at CSUN by Vanessa Morales, program advisor for the EOP/Trio Student Support Services Program.
Muñiz received his bachelor's degree in Chicana and Chicano studies at CSUN in 1980, and he has served as an advocate in EOP for four decades. In 1986, Muñiz helped developed a mentoring curriculum for a previous program called Student Affirmative Action, and his mentoring curriculum was used as a model to spread to other CSUs.
Muñiz talked about his love for his students and what he has gained from interacting with them.
"As a professional, I always thought I had the best job possible," Muñiz said. "It is truly a rewarding experience to work with students and see them develop from being incoming freshmen and transfer students into successful CSUN alumni, who are making positive contributions to their community and truly making a difference in people's lives."
Muñiz noted he was honored to share the award with EOP Resilient Scholars Program Coordinator Jina Gonzalez, who was his EOP mentee decades ago. Gonzalez, who earned her bachelor's degree in Chicana and Chicano studies in 2007, received a special mentoring award in honor of the late EOP Director José Luis Vargas.
Jina Gonzalez
Gonzalez was introduced by EOP Resilient Scholars Program Assistant Orlando Roybal. A former foster youth, Roybal thanked Gonzalez for supporting him in many different ways, from providing a listening ear and helping him succeed as a student to making sure he had access to health insurance and a doctor when he lost his MediCal coverage.
"Jina goes far beyond the scope of her job position," Roybal said. "She is the type of person who can be drowned in her work, but if a student comes into her office needing help, she'll make the time."
Gonzalez, a daughter of immigrant farmworkers who enrolled as a freshman in the EOP Summer Bridge Program in 1986, thanked her students and expressed her joy about the award.
"These 30 years have gone by so fast, and I think it's because I really love what I do," Gonzalez said. "I love the program, the people I work with and the students that give me the opportunity to be in their lives. Thank you for sharing your life experiences with me. Your mentoring has made me a better person and mentor for others. Without our students, this award would not be possible."
Gonzalez — echoing the sentiment of the other speakers — gave special thanks to José Luis Vargas, who was the first person to receive the Don Dorsey award in 1999.
"Receiving the Don Dorsey Excellence in Mentoring Award is special. Receiving it in memory of Jose Luis Vargas makes it even more," Gonzalez said. "Jose Luis was my mentor and friend. He was extremely patient with me and never gave up on me.  He helped me develop my tactfulness and patience to better help our students and program.  He kept on reminding me not to shoot from the hip — and to be a little nicer in my emails."