CSUN Joins National Effort to Focus on Climate Adaptation and Resilience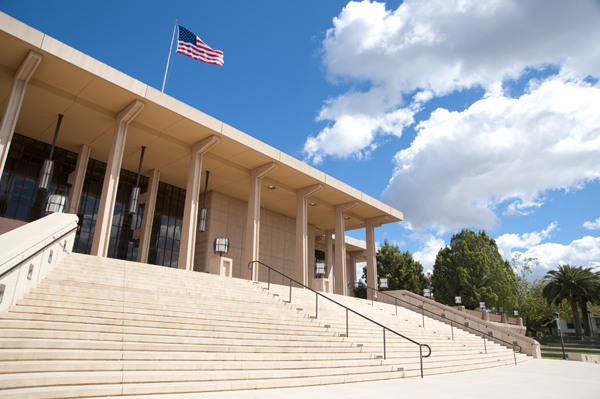 California State University, Northridge President Dianne F. Harrison has joined with university presidents from across the country to form an alliance that will work closely with local government and business leaders to create a more sustainable society.
Harrison is among the first university presidents to endorse the creation of the Alliance for Resilient Campuses (ARC) as a founding signatory. The alliance is an offshoot of Second Nature, a national nonprofit that works to create a healthy, just and sustainable society by transforming higher education.
"We recognize that in order to protect our vital institutional interests and to serve the needs of society in preparing for climate impacts, we must work toward sustainable practices," Harrison said. "By providing opportunities for education and research needed to create and maintain a sustainable society, higher education institutions like CSUN can lead the way to coping with climate change."
Among Second Nature's other programs is the American College and University Presidents' Climate Committee (ACUPCC), of which CSUN is also a signatory.
"The ACUPCC has played an enormously influential role in reducing greenhouse gas emissions and of embedding sustainability as an operating principle across higher education," said David Hales, president of Second Nature. "At the same time, we recognize that there is an increasing likelihood of damaging climate impacts to many of our colleges. ARC will provide a platform for developing flexible and state-of-the-art guidance and support for assessment, learning, implementation and evaluation with respect to adaptation and resilience, and will do so in full partnership with communities.
"As a nation, we have a lot of work to do to adapt to the ongoing climate changes, and as higher education invests in its own resilience, it can also play a critical role in helping all of society prepare for and even thrive in the coming decades," Hales said. "This is the driving idea behind ARC."
In all, about 25 university and college presidents, including Harrison, agreed to be founding signatories of ARC. In addition to CSUN, campuses include the California State University system, Portland State University, University of Arizona, Bristol Community College, University of Maine, Rochester Institute of Technology and Ball State University.
In the coming months and years, organizers said, the alliance will grow in partnership with cities, corporations and others to share knowledge, highlight and learn from success and contribute to an expanded and innovative focus on designing a resilient society.
In addition, ARC is partnering with Resilient Communities for America (RC4A), a national initiative that is mobilizing local elected officials in pledging to create more resilient communities. ARC and RC4A will work together to encourage strong partnerships between communities and campuses, and to share tools, information resources and successes to support and highlight improved resilience. RC4A is a joint campaign of the U.S. Green Building Council, the World Wildlife Fund and the National League of Cities.
Recent reports from the American Association for the Advancement of Science, the National Academy of Sciences, the U.K. Royal Society and the Intergovernmental Panel on Climate Change have all highlighted the severity of expected climate impacts, as well as the need for increased attention on reducing the magnitude of future change and preparing for the impacts of unavoidable change.
Earlier this month, the White House issued the third U.S. National Climate Assessment — the most comprehensive scientific assessment ever generated of climate change and its impacts across every region of America and major sectors of the U.S. economy.
The assessment's findings underscored the need for urgent action to combat the threats from climate change, protect American citizens and communities today, and build a sustainable future.