CSUN Library Unveils New Home for Oviatt Library Map Collection
The Oviatt Library Map Collection at California State University, Northridge provides access to thousands of flat maps, atlases and reference materials, as well as study and consultation space and a public geographic information system (GIS). The collection is now open in room OV26, located on the garden level of the Delmar T. Oviatt Library.
The university will be celebrating the grand opening of the collection's new space, from 3 to 5 p.m. on Nov. 13.
Formerly known as the Geography Map Library, the Oviatt Library Map Collection was established in 1958 by Robert Lamb within the Department of Geography Department and Environmental Studies at CSUN, then known as the San Fernando Valley State College, to support student and faculty research. The collection resided in Sierra Hall from 1993 until 2019.
"For many years, the members of CSUN's geography department worked very hard to build up the Map Collection into one of the finest on the West Coast," said Mark Stover, dean of the Oviatt Library. "We are honored to continue that tradition in the Oviatt Library. We hope to be able to extend the hours of the Map Collection, reach out to even more students in multiple disciplines on the CSUN campus, and build on the successes of the past."
The collection holds a research-level assortment of approximately 400,000 historical and government maps, aerial photographs, atlases and geospatial data that supports research on campus. It emphasizes maps of California, Los Angeles County and the San Fernando Valley.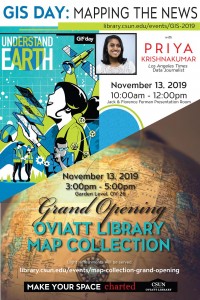 Visitors can find historical road and tourism maps, planning and zoning maps, topographic maps, maps from agencies such as the Bureau of Land Management and the U.S. National Park Service and World War II maps from the Army Map Service – the Map Library's first cartographic holding.
"Our specialized geographic and historical collections continue to support research, learning and student success across all departments on campus," said
Chris Salvano, who has served as the CSUN map curator since 2015. "Maps and historical air photos are often primary resources, so I remind students that maps and air photos can be used to support primary research in many disciplines, similar to primary texts, photographs or archival collections."
Salvano has expanded GIS research support services within the library and managed the collection's physical and administrative transition into the Oviatt Library. He helps students and researchers find maps within the collection.
During the fall 2019 semester, he worked with geography professor Mario Giraldo's introduction to GIS class to design a service-learning curriculum for his students.
"Students worked within the collection and learned about using specialized hardware and software within a cartographic and geospatial research environment," Salvano said. "They digitized physical collections, georeferenced historical air photos, in turn helping to create new digital objects for both classroom and research support."
The Map Collection is open from 9 a.m. to 5 p.m., Monday through Friday.
Visitors can use Reseda Boulevard and enter campus at the Prairie Street entrance. Parking is $8 per vehicle. Please see visitor information for more details
"The Map Collection always gratefully welcomes gifts and donations to its map, atlas and aerial photo collection," Salvano added.
To support the Map Collection, visit https://library.csun.edu/map-collection/about/support-map-collection.