CSUN Names Business Building for Alumni Harriet and Harvey Bookstein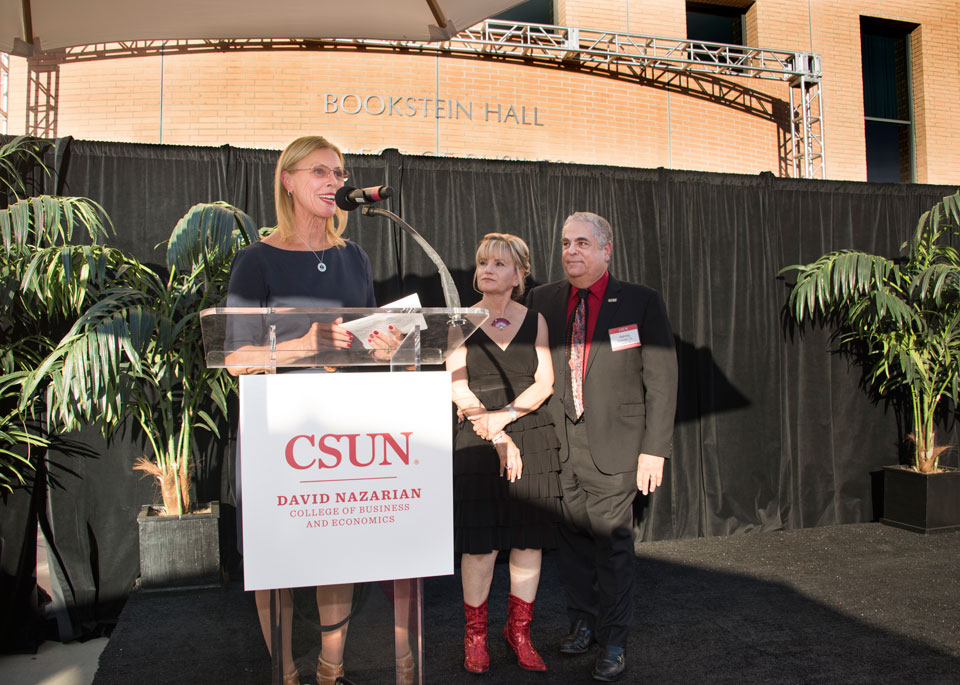 CSUN President Dianne F. Harrison speaking at the ceremony celebrating the renaming the building housing CSUN's business college in honor of alumni Harriet and Harvey Bookstein, who are standing to the right. Photo by Lee Choo.
California State University, Northridge officials have named the building that houses the university's business college Bookstein Hall, in honor of alumni Harriet and Harvey Bookstein and their generous support of CSUN over the years.
The renaming of Juniper Hall, home to the David Nazarian College of Business and Economics, was approved earlier this year by the California State University Board of Trustees in recognition of a $5 million gift from accounting leader Harvey Bookstein and his wife, Harriet, made to the university last year that pushed CSUN over the top in a two-year campaign to raise $25 million for the business college.
The gift is the latest of a host of generous gestures — from financial donations to teaching classes and mentoring students — the Booksteins have made to CSUN since they were students at the university nearly 50 years ago.
"There are few individuals who have had as profound an impact on CSUN and our students as Harvey and Harriet," said CSUN President Dianne F. Harrison during an Oct. 17 ceremony marking the building's naming. "Their initial gift to create the Bookstein Chair in Taxation was the first endowed chair in the Nazarian College, and created the Bookstein Institute, which helped to relaunch the college's Master's of Science in Taxation program. They followed that gift with an additional six-figure planned gift commitment. Over the years, the Booksteins raised tens of thousands of dollars from their friends and associates to support our programs across the university."
The Booksteins enjoyed the celebration, but, they said, the most significant part of the renaming was that fact that they will continue to have an impact on the lives of the students who will walk through the building's doors.
"It's an honor to be part of this great campus," Harvey Bookstein said. "It's an honor to be part of the future of this campus and its young students, and to have a chance to really make a difference in their lives."
He recalled speaking at business college's commencement a few years ago, and noting that a majority of the graduates were the first in their families to get a college education.
"That, to me, is what CSUN is about — giving people a chance to change the routines of their past and move forward with a new outlook," he said. "I think CSUN does that incredibly well, with its great leadership, great professors and great students who help each other up rather than tearing each other down, and that makes Harriet and me proud of this campus."
Harriet Bookstein noted that the university has come "a long way" since she and Harvey first stepped foot on the campus.
"It really is no longer the hidden jewel in the San Fernando Valley, but a shining beacon for all to see," she said.
Harvey Bookstein, a certified public accountant who graduated from CSUN in 1970 with a bachelor's degree in business administration, has nearly 50 years of public accounting experience and specializes in providing tax, accounting and business consulting services to clients in the real estate and high-net-worth practice areas. He is recognized as one of California's most respected certified public accountants. Bookstein is a senior partner of the prestigious national CPA firm Armanino LLP, after a merger with the firm he co-founded in 1975 — RBZ — two years ago. Armanino is California's largest independent accounting and business consulting firm. He specializes in financial issues relating to children, divorce and the development of strategies to pass family wealth from one generation to the next — including a method he developed and registered a trademark for called "Therapeutic Accounting®." Bookstein authored the book "Wake-Up Call," where he describes his life experiences that led to the creation of "Therapeutic Accounting®."
Harriet Bookstein is a successful business manager who works with high-profile leaders in the business and entertainment industries. Her clients range from performers to executives.
The Booksteins have been longtime supporters of CSUN and its David Nazarian College of Business and Economics. Several of the Booksteins' children are also alumni of CSUN.
Over the years, Harvey Bookstein has guest lectured in dozens of classes and mentored hundreds of CSUN students. In 2005, he and his wife donated $1 million for the creation of the Harvey and Harriet Bookstein Chair in Taxation and the Bookstein Institute for Higher Education in Taxation. Among other things, the institute assists about 130 low-income taxpayers each year to resolve their disputes with the IRS — free of charge.
Active on several CSUN boards, Bookstein received CSUN's prestigious Distinguished Alumni Award in 2009. He also received the Dorothea "Granny" Heitz Award for Outstanding Volunteer Leadership. Named in honor of the woman whose loyalty and school spirit made her a legendary figure on campus, the award is presented annually to alumni or friends who serve the university as outstanding volunteer role models and leaders. Bookstein received an honorary Doctor of Humane Letters from the university in 2016 in recognition of his successful career and legacy at CSUN.
"At great institutions all across this country there are markers of heroic individuals who invested time, money and their reputations in the work of lifting others, building communities, elevating culture, spurring economic vitality and vanquishing ignorance," said Robert Gunsalus, CSUN vice president for University Advancement and president of the CSUN Foundation. "It is not just a privilege for CSUN to recognize these principles — it is a mission-centered responsibility and tradition of higher education to uplift individuals who live them out. So Harvey and Harriet, thank you not only for your tremendous generosity, but also for providing a beacon example to which we all can aspire."
Alumnus David Nazarian, for whom the college is named, recalled his first meeting with Harvey Bookstein.
"I was immediately blown away by his passion for our college, the university and, most importantly, our students," Nazarian said. "The Booksteins' commitment to student success is remarkable, and I am doing the best that I can to live up to that same commitment."