CSUN President Beck Releases Report on 100-Day Listening Tour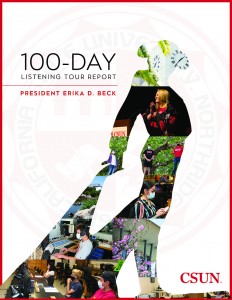 California State University, Northridge's sixth President, Erika D. Beck, spent her first 100 days in office on a comprehensive listening tour — meeting with students, faculty, staff, alumni, and industry and community leaders — in an effort to understand the opportunities and challenges the campus faces. This month, she released a report on her findings.
"CSUN's longstanding history of resilience in the midst of challenges was on full display this year as you, once again, continued to advance our academic mission in service of our collective future in the midst of tragic, ongoing and intersecting crises," Beck wrote in the report's introductory letter to the CSUN community. "I valued the opportunity to hear from each of you how our campus community responded with compassion, strength and determination. Collectively, I am confident that we are making the world a more just and equitable place."
The 100-Day Listening Tour Report focused on seven themes that emerged during the myriad sessions of listening and learning: Standing in Our Values of Equity, Inclusion, and Justice; A Clear Commitment to the Overall Success of Our Students; A Solid Foundation of Academic Excellence; Shaping Our Culture and Fostering Community; Disruptive Thinking; Strengthening Community Connections; and Making Sense of Our Dollars and Cents.
"These themes capture the voices of individuals across every facet of our university and will serve as guideposts as we move into the next chapter of our illustrious history," Beck said.
In the first theme in particular — Standing in Our Values of Equity, Inclusion, and Justice — Beck celebrated the university-wide "singular commitment to serving a richly diverse student population across every dimension of identity and lived experience, and a deep pride in CSUN's history of advancing racial and social justice."
"I heard a clear call to action in ensuring that the richness of diversity that our students bring to campus is reflected in our faculty, staff and administrative leadership," she said. "In my conversations with students, they expressed the imperative for more diverse faculty, staff and administrators who serve as role models, facilitate a sense of belonging and serve as evidence of equity to which the campus is committed."
On this theme, Beck noted that inclusive excellence is at the heart of her leadership values and "inextricably linked to academic excellence."
"This reflects the understanding that we have a moral imperative of ensuring all members of our campus feel valued and engaged, and that a just and equitable campus delivers higher quality learning experiences for our students and a more positive work environment for our employees," she said. "I strive every day to challenge my own thinking to ensure it is grounded in equity, and that evidence of our commitment to inclusive excellence can be found in every corner of our academic community.
"Hearing a shared commitment from thousands of students, faculty, staff and community members in these last few months has filled me with optimism for our collective future," she continued. "It is clear that our campus is comprised of the leaders we need to advance equity, justice and belonging on campus and beyond."
Beck came to CSUN from CSU Channel Islands, where she was president for more than four years. Prior to that, she was provost and executive vice president at Nevada State College. She took office at CSUN on Jan. 11, succeeding former CSUN President Dianne F. Harrison, who retired at the end of last year.
Starting this fall, Beck and the CSUN community will build on these themes and collected feedback that emerged during her listening tour, to begin a "robust effort in visioning for our collective future," she said.
"While our collective pride in what we have accomplished to date was plainly evident, I also heard an eagerness for direction, a need to find common ground and a deep desire to take our collective work to the next level," Beck noted in the report's conclusion. "Together, we will create a roadmap and work together to define our priorities, which advance a bright future for the university we all love. Your ongoing input and creative thinking throughout this process will ensure that we envision the future that we, our students and our communities deserve for generations to come."
To read the full 100-Day Listening Tour Report and for more information, go to https://www.csun.edu/100-day-listening-tour-report.