CSUN to Add Sand Volleyball as 19th Intercollegiate Sport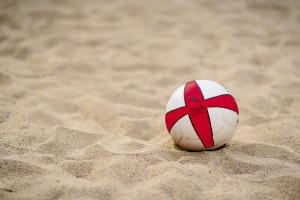 California State University, Northridge announced the addition of women's sand volleyball as the Matadors' 19th intercollegiate sport Friday. Jeff Stork, head coach of the Matadors' indoor volleyball team, will be the head coach of the sand team. The Matadors' sand squad will begin competition this spring, and will feature 14 returners from CSUN's 2013 indoor squad that reached the second round of the NCAA Tournament.
"We are delighted that women's sand volleyball will become CSUN's newest varsity sport," Dr. Dianne Harrison, CSUN President said. "The University looks forward to fielding a team of outstanding student-athletesthis spring and in the coming years."
CSUN is the fourth Big West Conference institution to add sand volleyball as a varsity sport following Long Beach State, Hawai'i and Cal Poly. Recent schools to add sand volleyball are Washington, Arizona, Arizona State, Oregon, South Carolina and LSU. Several Pac-12 institutions, including UCLA and USC, already sponsor sand volleyball as does crosstown rival Pepperdine.
"We are thrilled to sponsor sand volleyball as our 19th intercollegiate sport," Director of Athletics Dr. Brandon Martin said. "This is a true testament toward our effort to elevate our athletics program and brand. We will build an elite sand volleyball program capable of competitive excellence on a national level."
In 2010, sand volleyball was identified by the NCAA as an emerging sport, intended to provide additional athletic opportunities to female student-athletes. According to the American Volleyball Coaches Association,nearly 500,000 13-25 year-old female participants have taken up the sport since 2007.
"The addition of sand volleyball is a huge plus for CSUN," Stork said. "This is such a great opportunity for the University and I appreciate the vision and support of President Harrison and Dr. Martin. It certainly creates opportunities for player development and I do know that there is a lot of interest in sand volleyball in the San Fernando Valley. As an emerging sport I believe that we can become very competitive very quickly."
Fifteen schools competed in sand volleyball in 2012, and an additional 15 added the sport in 2013. If the total number of Division I and II institutions sponsoring varsity programs for one year reaches 40, the NCAA will begin to sponsor an NCAA Championship in the sport.
No state operating funds will be used to complete the CSUN sand volleyball facility project. Department officials expect construction to begin on an on-campus sand volleyball facility later this spring with the facility ready for competition in 2015. The facility will be accessible for the entire campus community.
For more information, visit CSUN's Intercollegiate Athletics website.