CSUN's Accounting Program Ranked Third Best in the Nation
The online college search site College Choice has ranked California State University, Northridge's undergraduate program in accounting and information systems third best in the nation — surpassing top schools such as Cornell University, University of Southern California and UC Berkeley, which makes CSUN the top-ranked school for a Bachelor of Science in accountancy in California.
"We work really hard to attract the best and brightest students into our program, we take really good care of them while they are here, and we help them prepare and find their careers when they leave us," said Paul Lazarony, professor and chair of the Department of Accounting and Information Systems.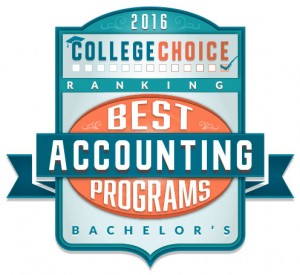 College Choice used data from U.S. News & World Report, the National Center for Education Statistics and PayScale.com to evaluate factors such as reputation, cost, financial aid availability and job market success for graduates to determine the rating.
It is CSUN's efforts in achieving student success outside the classroom that particularly strengthen outstanding student outcomes, said Lazarony.
For example, four major-related clubs within the department — the Accounting Association, Association of Latino Professionals for America, Beta Alpha Psi and the Management Information Systems Association — help foster mentorship by connecting professionals and alumni from the industry with students. The clubs also provide career advice and offer leadership positions.
CSUN's Ernst and Young Center for Careers in Accounting and Information Systems helps students connect with top accounting firms and score internships in their desired field.
"[The program] has done an amazing job strengthening our relationships with the firms and growing the internship and full-time recruiting opportunities with them," Lazarony said. "Today, all of the 'Big Four' accounting firms recruit at CSUN — in fact, all of the top 20 accounting firms now recruit our students."
Each semester, the accounting clubs and the EY Center organize Meet the Firms, a recruiting event that features more than 250 recruiters and more than 700 accounting students.
"We have been told this is one of the largest Meet the Firms events in the country," Lazarony said.
Professor emeritus Glen Gray, who taught at CSUN for almost 30 years, has seen the increase in professional development opportunities in the department.
"Our students were always smart and hardworking, but back in the day we couldn't convince students to sign up for internships," he said. "Now, students better understand the professional world, and they compete for internships as well as for officer positions in student groups. This prepares students to hit the ground running when they graduate and start their new jobs.
"Accounting firms really appreciate this characteristic of our students and subsequently, heavily recruit [them]," Gray added. "This increases CSUN's reputation and the demand for our students."
CSUN's undergraduate program in accounting and information systems has been a leader in training top accountants for decades, producing hundreds of managing partners in CPA firms throughout the Los Angeles region and California. Examples include distinguished alumni and honorary doctorate recipients such as Harvey Bookstein, a 1970 alumnus known for his philanthropy, community leadership and achievements in the fields of finance, real estate and accounting; and Charles "Chuck" Noski, who earned his bachelor's degree in business administration in 1973 and his master's in accountancy in 1995 from CSUN. Noski was recently elected chairman of the board of trustees of the Financial Accounting Foundation, which oversees the bodies tasked with establishing private and public sector accounting and financial reporting standards in the U.S.
Lazarony and Gray also praised the department's faculty for its commitment.
"The faculty has real-world experiences they bring into the classroom to help students prepare for their future," Gray said. "The faculty is highly dedicated, cooperative and in sync to make the program the best it can be."