CSUN's eText Initiative Saves Students Time and Cost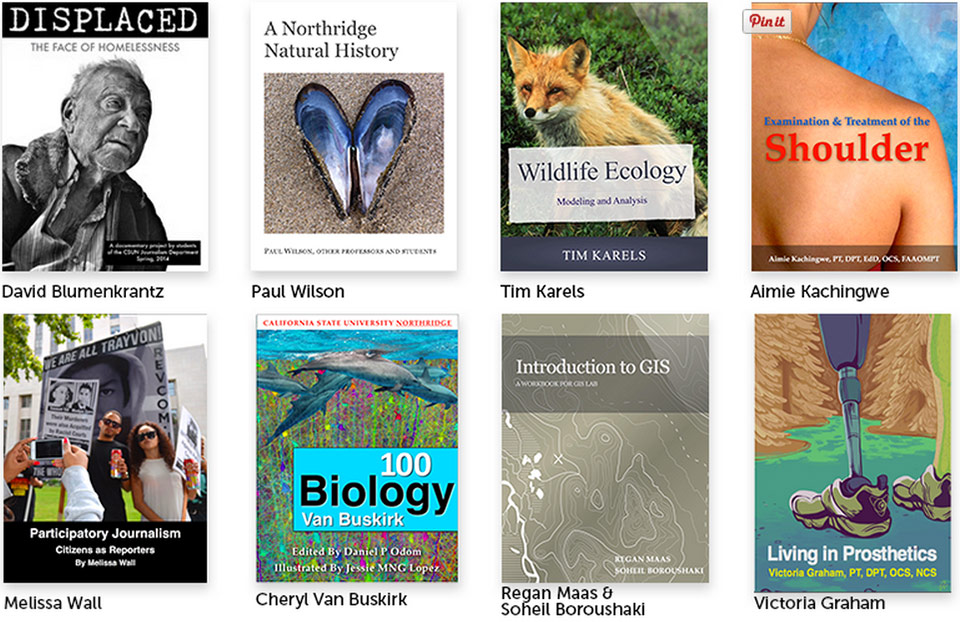 As California State University, Northridge has become a campus focused on teaching its students via digital outlets, the number of materials coming from professors for iPad tablets and other mobile devices has seen a boon.
That's thanks to a new eText Initiative, a movement to collect electronically published works by CSUN professors for their students for classroom use. Some of the materials are even available to the general public in the iTunes bookstore. The effort has put CSUN on the cutting edge of education, and for a small percentage of the cost for students relative to previous course materials.
"With our eText and myCSUNtablet initiatives, CSUN is giving Matadors the same great education we are known for," said CSUN President Dianne F. Harrison, "but with an eye toward the future of learning. Additionally, the way our faculty and Information Technology departments have embraced eTexts has been nothing short of wonderful. It's this kind of collaboration that puts our curriculum on the cutting edge."
Since its launch last year, 70 CSUN faculty members have authored eTexts for tablets and other mobile devices thanks to initiative support, which has included workshops and one-on-one support from Faculty Associates and the Faculty Technology Center staff.
"The response from faculty members has been wonderful," said Hilary J. Baker, CSUN's vice president for information technology. "Enabling faculty to create eTexts that are custom-made for their classes has been a win-win collaboration between faculty and the Faculty Technology Center that ultimately benefits students."
The types of content being produced vary, from a course's main text (26 percent), to manuals (48 percent) to companion pieces (22 percent) and supplemental reading (4 percent). Despite the name, these eTexts aren't only blocks of words, but immersive explorations into the subject that contain images, audio and video components, and interactive activities.
Biology professor Paul Wilson has authored books for the eText Initiative, including "A Northridge Natural History" and "A Repertoire of Biostatistics: Lean Lectures and Exercises to Build Intuition." He believes that the visual and auditory learning queues the interactive features of eTexts bring to students help them learn more than a regular textbook.
"My students want a written version of what they need to learn," Wilson said. "Sometimes they want a video or audio recording of what I'm walking them through in class. And much of what I teach is visual, how to recognize a plant or display data that illustrates a statistical relationship. I can pull all this into a coherent organized eText."
Ultimately, this initiative was created to help students with the soaring costs of college-level textbooks. According to CSUN estimates using collected faculty member data, the average savings for each student involved in the project is $50 per class, with an estimated total savings to Matadors of $161,000.
According to those statistics provided, 14 percent of students in eText Initiative-involved classes will save more than $100, and 23 percent between $50 and $99. For students like Dani Amoroso, a graduate student studying under Wilson, it's a win-win situation — savings and a learning tool made to order for him and his classmates.
"It's nice to be able to interact with the text [of Paul Wilson's "A Northridge Natural History"] by simply clicking links," said Amoroso, "entering photo galleries, and easily making notes and highlighting for future reference. It's almost like a virtual tour of the natural history of some beautiful Southern California locations."
In the internet's ethos of collaboration, the faculty members have more than only their students in mind when they create these eTexts. According to those polled, 90 percent of faculty members are willing to share their creations with either CSUN or the internet at large, and 55 percent say their texts are most likely going to be used somewhere else in their department.
"The eTexts that professors are writing are an extension of what CSUN professors have always poured energy into," Wilson said. "Twenty years ago, the books would have been photocopied. Now they are released from the constraints of photocopying. They can be rich in multimedia and fun little activities."